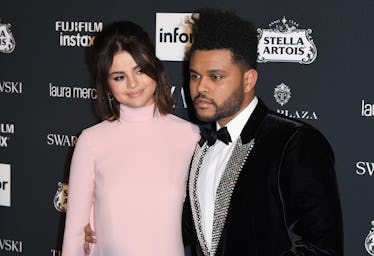 Here's Selena Gomez's Relationship Status With The Weeknd After Hanging With Justin Bieber
ANGELA WEISS/AFP/Getty Images
With recent reports that Selena Gomez and Justin Bieber are hanging out again, a lot of fans got those old school Jelena feels, with many just happy to know that the two are on good terms again. But what is Gomez's and Bieber's relationship really like these days? Are Selena Gomez and The Weeknd still dating? There's a lot to sort out, but some new reports help clear it all up.
TMZ first reported that Gomez and Bieber hung out over the weekend with friends, with the "Wolves" singer pulling into her driveway and Bieber following minutes later.
The reunion had fans asking plenty of questions. Like, what's going on? And what does Gomez's boyfriend, The Weeknd, think of all of this?
To be honest, no one can know for sure until Bieber or Gomez comment on the matter, but there are some inside sources giving the scoop on what their status is these days. As with anything not coming directly from the celebs in question, take this all with a grain of salt, but it does sound like they're rebuilding their relationship again.
Entertainment Tonight reports that, according to a source, Bieber and Gomez hung out with friends from their church and that their relationship is friendly. The source revealed:
Selena is still with The Weeknd, and she only sees Justin as a friend. Selena is the one who got Justin involved in this church. It was her attempt to help turn his life around, and it really did help. He's really committed to it and has formed a strong network. So, they have a lot of mutual friends now from that.
Further, a second source notes: "They are not dating, it's nothing romantic," adding, "Justin and Selena are just friends right now. They reconnected and, right now, Justin wants to be a good friend to her. At least for now, it's a friendship."
ET further noted that the original source explained that Bieber and Gomez are "more mature" now and that she has "a whole new outlook" since her health concerns and kidney transplant:
Now she's more mature and confident — and so is he — and they can hangout without any drama. Given everything she's been through with her health, it's not surprising that she's making an effort to reconnect with people and to make amends. She knows how precious life is and doesn't want to waste any time with negativity. She recently connected with Demi [Lovato] and is at peace with Justin. She's got a whole new outlook.
Additionally, according to a report from Us Weekly, multiple sources explain that Gomez and Bieber have mended their relationship, with one insider explaining: "Selena is simply trying to make peace with Justin after her illness. He has been great to her since her surgery and they are on good terms right now. They got back in touch recently through their friends and have seen each other at church."
Another source told Us Weekly that they started speaking "a couple months after her surgery," with another insider adding: "They realized it was time to grow past their history and move on. They're grown up a lot in the past couple of years and are mature about the situation."
As for any concerns that The Weeknd is worried about Gomez and Bieber being back on friendly terms, an insider told Us, "He has been on tour and she's been traveling back and forth to L.A., but they are 100 percent still on," with a second source saying, "The Weeknd is well aware Selena and Justin are talking. The Weeknd doesn't think Selena talking to Justin again is weird at all. He doesn't care."
Can exes be friends? It looks like these two are definitely giving it a go!
Check out the entire Gen Why series and other videos on Facebook and the Bustle app across Apple TV, Roku, and Amazon Fire TV.