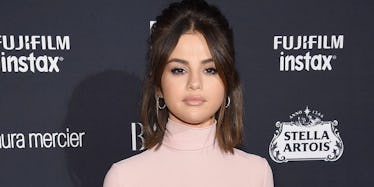 Selena Gomez Reveals She Got A Kidney Transplant In Emotional Instagram Post
Dimitrios Kambouris/Getty Images
In a moving Instagram post this morning, Sept. 14, Selena Gomez revealed she had a kidney transplant as part of her treatment for lupus. Gomez first announced she had lupus in October 2015. The announcement came with the news that she had undergone chemotherapy in order to treat the illness. She also had to cancel some tour dates back in 2013 in order to deal with symptoms. The post says,
I'm very aware some of my fans had noticed I was laying low for part of the summer and questioning why I wasn't promoting my new music, which I was extremely proud of. So I found out I needed to get a kidney transplant due to my Lupus and was recovering. It was what I needed to do for my overall health. I honestly look forward to sharing with you, soon my journey through these past several months as I have always wanted to do with you. Until then I want to publicly thank my family and incredible team of doctors for everything they have done for me prior to and post-surgery. And finally, there aren't words to describe how I can possibly thank my beautiful friend Francia Raisa. She gave me the ultimate gift and sacrifice by donating her kidney to me. I am incredibly blessed. I love you so much sis. Lupus continues to be very misunderstood but progress is being made. For more information regarding Lupus please go to the Lupus Research Alliance website: www.lupusresearch.org/ -by grace through faith
Ever since she made her struggle with lupus public, Gomez has been an advocate of spreading awareness about the disease. According to LupusReasearch.org, lupus is,
One of many disorders of the immune system known as autoimmune diseases. In autoimmune diseases, the immune system turns against parts of the body it is designed to protect. This leads to inflammation and damage to various body tissues. Lupus can affect many parts of the body, including the joints, skin, kidneys, heart, lungs, blood vessels, and brain. Although people with the disease may have many different symptoms, some of the most common ones include extreme fatigue, painful or swollen joints (arthritis), unexplained fever, skin rashes, and kidney problems.
Gomez spent some time in rehab in 2014 following her diagnosis, as her mental health was severely affected by the illness. Her mother also suffered a miscarriage around the same time, so she said she needed some time "to be OK." Gomez also took a break from work in 2016 to focus on her health. She said in a statement to CNN, "I've discovered that anxiety, panic attacks and depression can be side effects of lupus, which can present their own challenges. I want to be proactive and focus on maintaining my health and happiness and have decided that the best way forward is to take some time off."
If the woman in Gomez's post about the transplant looks familiar, that's because you've probably seen her on TV before. Francia Raisa is one of Gomez's closest friends who is most well known for her role of Adrian on The Secret Life of the American Teenager. The 29-year-old has appeared in other movies/shows since Secret Life ended and was just cast as a series regular for the black-ish spinoff, grown-ish, set to air on Freeform. Gomez showed her a lot of love and gratitude in her post from this morning, saying she gave her "the ultimate gift and sacrifice."
Gomez's post also includes a personal photo of the scar from her surgery and another photo of her during her recovery process. She says she's excited to share her journey this past summer with her fans and encourages people to learn more about lupus by visiting LupusResearch.org. According to the National Resource Center on Lupus, 1.5 million Americans are currently living with lupus and as many as 5 million people worldwide have been diagnosed with the illness, so it's a brave thing Gomez is doing by allowing herself to be vulnerable with the world about her disease in order to raise awareness.