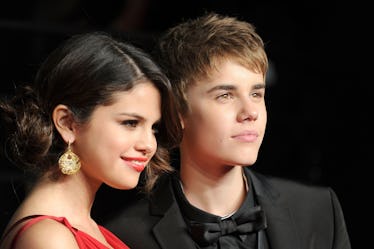 Selena Gomez & Justin Bieber Are Reportedly Back Together, So Time To Freak Out
Pascal Le Segretain/Getty Images Entertainment/Getty Images
Good news for the Biebs: apparently it's never too late to say sorry. After spending a weekend together and being snapped in a series of photos, this former couple is back on. Yep, that's right: Selena Gomez and Justin Bieber are dating, reports say, so time to freak out.
According to a report in Us Weekly, an unnamed "insider" told the tabloid that Bieber, 23, was pursing the Revival singer and texting her "nonstop." The pair, who broke up three years ago, have been spending time at Gomez's Los Angeles home and were pictured together on Nov. 1 walking with iced coffees in hand.
"They realized it was time to grow past their history and move on. They've grown up a lot in the past couple of years and are mature about the situation," the source told Us Weekly. (A request for comment from Elite Daily to representatives of both Gomez and Bieber was not immediately returned.)
With the rekindled romance, Gomez, 25, appears to be bouncing back from her recent breakup with The Weeknd. The Starboy singer dated Gomez for 10 months, including during a period when she faced health issues. Gomez underwent a kidney transplant in June due to complications from Lupus.
That's when the Biebs came back into the picture. According to a different Us Weekly report, Bieber reached out to check in after the surgery.
At first, the relationship was friendly, then it evolved into something more, and The Weeknd, 27, was reportedly not happy about it. "He trusted Selena, but he really didn't trust Justin," a source told the publication.
Bieber and Gomez aren't exactly unfamiliar with being an on-again-off-again couple. The duo were first an item from 2011 to 2014. During that time, they broke up in 2012, then were hot and cold for the remainder of their relationship.
Looking back on their post-breakup quotes, it sounds like they never really got over each other.
In a 2015 interview with Elle, Gomez told the publication that she was still cool with her ex-flame. "I'll forever support him and love him in a way that … we grew up together," she said.
The Biebs shared a similar sentiment. In an Access Hollywood interview the same year, he said he would stay in touch with Gomez. "I'm never going to stop loving her. I'm never going to stop checking in on her," Bieber told the show.
During their time apart, Bieber had been linked to a few different models and celebrities, including Sofia Richie and Kourtney Kardashian. That is, when he wasn't busy getting into trouble.
Around the time that the couple broke up, Bieber egged his neighbors and abandoned a monkey in Germany. He has also just generally been rude to fans who asked for his picture. So, it's easy to see why not everyone was thrilled by the reports that the Bieber and Gomez are happening again.
Since Gomez and The Weeknd broke up — over the phone, no less — fans have been speculating if Bieber was back in the picture. In addition to riding bikes, the pair also reportedly got breakfast and went to church together, which sure sound like telltale signs of a relationship (church, hello!?).
Or, maybe the Biebs was just praying that she would take him back.
In a move that seems pretty girlfriend-like, Gomez even wore Bieber's jersey to a ice rink to watch him play hockey on Nov. 2.
Neither Bieber nor Gomez has officially confirmed the romance, but they appear to be spending nearly all of their time together. Even if they're not ready for it, Jelena are tearing it up around town. (A request for comment from
They're both pretty busy, too. Gomez told Apple Music that she has at least two albums of music ready to go. Bieber, for his part, recently canceled several concerts on his Purpose world tour and is emerging from a funk, according to People.
If Justin and Selena can make it work, then you better bielib that true love really does exist.