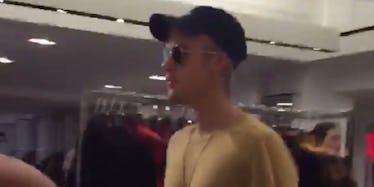 Justin Bieber Proves He's Kind Of A Jerk (Yet Again) In This New Fan Video
Twitter
It seems like Justin Bieber is taking this whole "no photos" thing seriously after all. Back in May, we reported that the 22-year-old star issued a statement on Instagram saying that he was done taking photos with fans because he was starting to "feel like a zoo animal," rather than a human being.
Here's the post.
While you can't fault the kid for speaking up for himself and laying down some ground rules, it's hard to picture Bieber not catering to his fans every now and then. I mean, at the end of the day, you're JUSTIN BIEBER. You have millions of fans (75.2 million on Instagram alone). You need to be in the mood to sign a few autographs and snap a few photos from time to time.
Well, that wasn't the case when a fan ran into Justin Bieber at Barney's New York this week. It turns out the "Purpose" singer is still being a jerk to his most loyal supporters.
In the video, a girl walks up to Bieber asking for a quick hug to which he immediately responds, "no," before walking off in a hurry. The girl, as well as the other fans in the video, are still pretty shocked as if to say "wait, so, he's not taking photos OR giving hugs... so what's the point?!"
Check out the cringeworthy video below.
Shortly after the incident, Justin posted a photo of himself at Barney's on Instagram like it never happened.
Justin, cheer up, man. I know being a globally-recognized superstar worth over $200 million at age 22 sucks, but life could always be A LOT worse. And besides, you wouldn't be any of those things if it weren't for your diehard fans.
Citations: Another fan taken video of Justin at Barneys NY in New York City, NY (Bieber News)