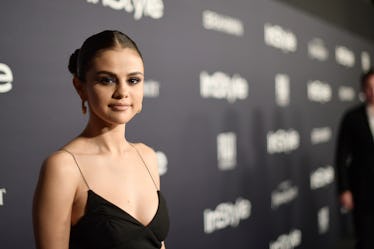 Selena Gomez Says She Feels "Isolated" & "Judged" By Fame In Heartbreaking Interview
Matt Winkelmeyer/Getty Images Entertainment/Getty Images
Selena Gomez has had quite a hectic few months. She's put out new music, started hanging out with her ex-boyfriend, Justin Bieber, broke up with her current significant other, The Weeknd, and had a kidney transplant. With so much news constantly getting churned out about the starlet you may need a little reminder as to why Selena Gomez is famous in the first place. Well, Gomez starred on Disney Channel's Wizards of Waverly Place as Alex Russo and then turned into an international pop music sensation — and really hasn't stopped since.
As it turns out, fame hasn't been all glitz and glam for Gomez. During an Oct. 30 interview on Today, Gomez revealed that she felt "guilty" about her fame. She said,
I don't think I ever accepted the position I had. It was me almost feeling guilty about fame. Because people could see anyone in my position and just say, 'Wow, they've got it all figured out, they've got everything, they get to live this cool life.'
Gomez continued,
You're isolated, you're being looked at, you're being judged, and I'm always trying to be nice, I want to be great — that's genuinely who I am deep down, but it just seemed pointless.
Gomez has been very open about her experience on Disney Channel and her ongoing struggles with her mental health. Last October, the singer announced she was taking a hiatus for her mental health and spent 90 days in a treatment facility in Tennessee.
In February of 2017, during a panel discussion about 13 Reasons Why with Netflix, Gomez admitted her own connection to Hannah, her depression, and her time in rehab. She said,
To be frank with you, I was going through a really difficult time when they started production. I went away for 90 days. I actually met tons of kids in this place that were talking about a lot of the issues that these characters are experiencing.
She continued by mentioning Disney had a huge impact.
I've had to deal with it on a different scale, whether it was just kids — or growing up in the biggest high school in the world, which was Disney Channel — but it was also adults that had the audacity to tell me how I should live my life. It was very confusing for me. It was so confusing, I had no idea who I was going to be, what I am still going to become.
Gomez revealed during her recent interview with Today that while she escaped from her career with the hiatus, she also went months without talking to many of her close friends — BFF and kidney donor, Francia Raisa, included.
Gomez said,
I went away to a facility, I took some time off, I needed to get my mind right, be healthy, I removed myself from everyone in my life.
Raisa included the fact that her and Gomez went six months without speaking and said,
It was a huge lesson of friendship for me, and trust, because it's easy to feel offended or want to be there. It's just, they need to go through their own thing.
With all the obstacles Gomez has faced, she focuses on moving forward, always. She explained that she doesn't think of her kidney transplant as a "negative experience," rather an event that has made her stronger. She said,
I don't want people to think that it's a sad thing that I went through this with Francia or with anything in my life, because at the end of the day, I think all of the stuff that I went through made me and defined everything that I am right now. I think it's a really beautiful thing and I have to remind myself that. It's not a negative experience.
Gomez is seriously so, so strong. While she's had a pretty intense year, she is still making amazing music, has become basically everyone's style icon, and continues to be an amazing role model. Wishing nothing but the best for you, Selena.
Check out the entire Gen Why series and other videos on Facebook and the Bustle app across Apple TV, Roku, and Amazon Fire TV.