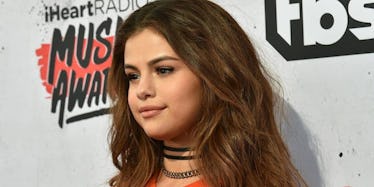 Selena Gomez Opens Up About Her 90 Days In Rehab And Disney Channel Past
REX/Shutterstock
Selena Gomez has been back in the public eye for about three months, but the memories of her time in a mental health rehabilitation center are still with her.
It's particularly relevant to her now, as the premiere of the Netflix series "13 Reasons Why" approaches, on which Selena is an executive producer.
Based on the young adult novel by Jay Asher, the series follows a teenage girl named Hannah (played by Katherine Langford), who commits suicide after she struggles with her mental health.
At a panel hosted by Netflix in New York City on Wednesday, Selena opened up about her own connection to Hannah, her depression and her time in rehab — which was during same time "13 Reasons Why" was filming.
She said,
To be frank with you, I was going through a really difficult time when they started production. I went away for 90 days. I actually met tons of kids in this place that were talking about a lot of the issues that these characters are experiencing.
Reports of the 24-year-old singer spending time at a treatment facility in Tennessee first came out back in October, a month after Selena announced she was taking a hiatus for her mental health.
Selena reflected on her own experience there with depression as compared to the character Hannah's experience in "13 Reasons Why," and she sees one main difference: Disney Channel.
Selena said,
I've had to deal with it on a different scale, whether it was just kids — or growing up in the biggest high school in the world, which was Disney Channel — but it was also adults that had the audacity to tell me how I should live my life. It was very confusing for me. It was so confusing, I had no idea who I was going to be, what I am still going to become.
The former Disney star said watching these issues of depression, anxiety and suicide play out in "13 Reasons Why" was an emotional experience, because they hit so close to home.
But she feels proud of what the show is accomplishing, and hopes it can help other young people struggling with similar battles find some sense of solidarity and peace.
She said,
They're going to instantly fall in love with these characters. I want them to understand it. I would do anything to be able to have a good influence on this generation. It's hard, but I definitely relate to everything that's going on. I was there for the last episode, and I was a mess seeing it all come to life, because I've experienced just that, for sure.
"13 Reasons Why" stars actors Katherine Langford and Dylan Minnette and will begin streaming on Netflix on March 31.