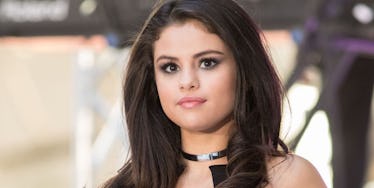 Selena Gomez Is Back In Rehab After Dealing With Depression And Anxiety
REX/Shutterstock
Selena Gomez has reportedly been recovering in a rehabilitation center since she announced her mental health break a month ago.
According to a report from Us Weekly, multiple sources say the 24-year-old singer is spending time at a treatment facility just outside of Nashville, Tennessee.
At the end of August, Selena announced she was a taking a music hiatus and canceled 34 upcoming Revival Tour dates due to complications with lupus and mental health.
In a statement to PEOPLE, she said,
As many of you know, around a year ago I revealed that I have lupus, an illness that can affect people in different ways. I've discovered that anxiety, panic attacks and depression can be side effects of lupus, which can present their own challenges.
The source Us Weekly cites described the Tennessee facility that Selena is visiting as "private and quiet" as well as "super intense."
In 2015, Selena confirmed she was diagnosed with the chronic autoimmune disease lupus and revealed she had also undergone chemotherapy.
However, Us Weekly reports, via a source "close to" Selena, this break is more about her mental health than about any physical complications with lupus.
The source said,
Selena is dealing with lupus, but this break is to focus on her mental health. She can go to a very dark place.
Over this past weekend, the singer was seen by several fans at the Texas Roadhouse restaurant in Alcoa, Tennessee, and even took the time to take selfies with them.
I MISSED HER SO DAMN MUCH I CANT BELIEVE THIS IS HAPPENING #SelenaIsBackParty pic.twitter.com/suVC7A492R — Feel Me Stan (@SelsBodyHeat) October 8, 2016
Selena also recently collaborated with producer Cashmere Cat on the song "Trust Nobody," which was released two weeks ago.
However, since she is only featured in one verse, alongside hip-hop artist Tory Lanez, it's unlikely this is a project she'd been working on since the hiatus.
Feel better soon, Selena!
Citations: Selena Gomez Returns to Rehab During Tour Break to 'Focus on Her Mental Health' (Us Weekly)