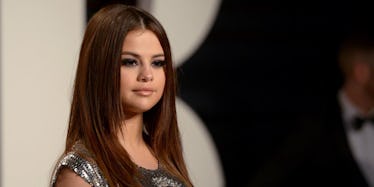 Selena Gomez Just Revealed She's Taking A Break To Focus On Her Health
REX/Shutterstock
Listen, people, Selena Gomez is only human!
The 24-year-old singer seems to be overwhelmed due to a hectic year.
Not only has she been on tour for the last four months, but she's also been knee-deep in endless Justin Bieber-related drama.
It looks like things might be catching up to Selena, according to her most recent interview.
The pop star spoke to People, stating,
As many of you know, around a year ago I revealed that I have lupus. I've discovered that anxiety, panic attacks and depression can be side effects of lupus, which can present their own challenges.
They certainly can. After all, regardless of the money and the fame, these celebrities are just like us.
When your health comes knocking at the door, it's only right that you answer it.
Sure, this might be upsetting news to her loyal fans, but Selena's got the right idea.
She continued,
I want to be proactive and focus on maintaining my health and happiness and have decided that the best way forward is to take some time off.
Co-CEO and co-president of the Lupus Research Alliance, Kenneth M. Farber, also spoke to the magazine. He said,
It is not commonly known that depression, anxiety and panic attacks can be side effects of lupus. We are so proud of Selena for taking care of herself and bringing awareness to this sometimes very misunderstood illness.
Despite announcing that she'll be taking some time to tend to herself, Selena Gomez hasn't announced whether or not her upcoming Revival World Tour dates will be rescheduled.
Hey, Selena, you're doing the right thing, and you're setting a GREAT example of the importance of taking care of yourself for your fans.
Depression and anxiety are no joke!
Citations: Selena Gomez taking time off to deal with anxiety and depression (Page Six)