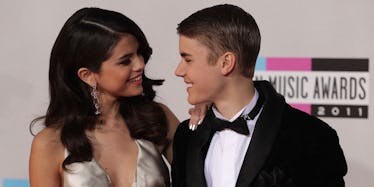 Justin Bieber Won't Forgive You, Selena Gomez, But That's OK
Shutterstock
With Justin Bieber and Selena Gomez fresh off of a toxic Instagram feud, it's hard to tell where things will go from here for the ex-lovers.
But it seems like the 22-year-old star might not be giving 24-year-old Selena Gomez a chance to apologize for lashing out at him in the first place.
It all started after Justin and Sofia Richie hung out and put their trip to Japan on public display.
Justin posted numerous photos on Instagram of him and 17-year-old Sofia Richie hanging out in Japan, and his fans FREAKED.
Outraged beliebers who couldn't grasp why the two stars were so close began directing vicious insults at both Bieber and Richie.
In response to the haters, Justin posted this.
Selena Gomez came to the rescue of disgruntled "beliebers" by commenting on Justin's post.
Um, WOW. So, not only did Selena jump into Justin's comments section, but she also aired him out quite a bit.
First, she basically told him that if he can't handle the heat, he needs to get out of the kitchen. Ouch! Then, she followed up with another jab insinuating that Justin cheated on her "multiple times." Double ouch!
After the dust settled, it turns out Justin Bieber had no words for Selena Gomez. In other words, it MIGHT be too late for Selena to say sorry.
According to TMZ, a source close to the 22-year-old singer has revealed that Selena has been trying to contact Justin relentlessly to discuss the war of words that transpired this week.
Justin, however, wants nothing to do with her and doesn't even want to talk things out.
Despite apologizing for lashing out at him and calling her stunt "selfish and pointless," the insider says that the Biebs is "very over her."
The report states that he feels like "his ex won't let go" and that she's constantly thinking up new ways to intervene with his life after their relationship crashed and burned.
In addition, Justin Bieber seems to be the most hung up on one thing -- Selena's judgement of him for threatening to delete his Instagram account.
Back in February, Selena actually stated,
I want to delete my Instagram. There's no drama. Everyone else creates drama. Including this post.
Selena's hypocritical thinking could be playing a major role here. As a result, JB actually DID delete his Instagram account and is now reportedly not speaking to Selena at all.
Well, it's safe to say things aren't looking too good between Justin and Selena right now.
Anyone know what Sofia Richie thinks about all of this?
Citations: Justin Bieber: Too Bad, Selena... It Is Too Late To Say Sorry (TMZ)