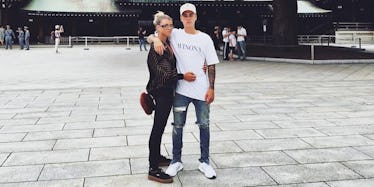 Is Sofia Richie's Cryptic 'Love You' Tweet About Justin Bieber?
Instagram
If you've been keeping up with the ongoing Instagram feud between Justin Bieber and Selena Gomez, you know exactly who Sofia Richie is.
If you don't know who Sofia Richie is, allow me to refresh your memory...
Selena Gomez took to Instagram to put her ex-boyfriend Justin Bieber on BLAST after Justin posted this.
The photo, which features Lionel Richie's 17-year-old daughter (who is also Michael Jackson's goddaughter), has sparked outrage from Justin Bieber's loyal "beliebers" who can't grasp why the 22-year-old star has been randomly spending so much time with Sofia.
Selena reacted to Justin's harsh words directed at his fans with a few comments of her own.
Even Sofia had something to say.
Despite the Instagram feud with Selena, Justin still posted six photos in a row of him and Sofia hanging out.
In the midst of it all, Sofia Richie took to her Twitter account to post a cryptic tweet many people are speculating is about Justin Bieber (she has since deleted the tweet).
What does it all mean?!
The "L" word is a pretty big deal, guys...
That's precisely the reason I think Sofia could be directing her sentimental tweet to someone else other than Justin.
I mean, just because these two have practically swapped Instagram accounts and are also fighting for each other doesn't mean they're already in love... Right?!
Does Sofia Richie actually have the guts to confess her sudden love for Justin at the pinnacle of the ongoing Instagram beef between him and Selena? I think not, but we'll just have to wait and see.
At the end of the day, these two haven't been shy when it comes to plastering their unbreakable bond all over the 'net.
It's only a matter of time until we figure out what this is all about.
Citations: Sofia Richie Tweets "Love You," Possibly to Justin Bieber (Teen Vogue)