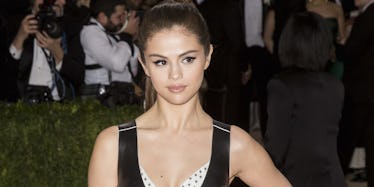 Fans Think Selena Gomez's Feud With Justin Bieber Is All For The VMAs
Shutterstock
I've said it before and I'll say it again: The time leading up to the MTV VMAs is not the time to trust any move a celebrity makes, especially regarding fights and feuds.
Justin Bieber and Selena Gomez are trying hard to steal Taylor Swift and Kanye West's fake feud thunder. But fans aren't buying it for a second.
Two weeks ago, the exes teased at a possible collaboration. Then, this weekend, Selena seemingly called Justin out for his very public relationship with Sofia Richie.
Twitter lit up with people calling bullshit on Jelena's attempted pre-VMAs publicity stunt.
What if this whole Justin/Selena drama is a publicity stunt for the VMAs and on the day perform together and announce they are back together — x (@lovxtobutera) August 15, 2016
@lovxtobutera after the Nicki/taylor drama we all think every feud is an stunt — Susan #RISE (@Fingers4Katy) August 15, 2016
I bet u this a big publicity stunt between Justin, selena and Sofia — cold water (@Tebear97) August 15, 2016
Y'all realize Justin & Selena are at home texting each other laughing rn... This is a publicity stunt cause both their music not selling — ️ (@bdavistan) August 15, 2016
Selena has just finished the US leg of her Revival World Tour. This gives her a short break until she heads over to Canada on September 3, in order to keep the tour rolling.
Yup, Selena's plans are wide open on Sunday August 28, aka, the night of the VMAs. Over the next two weeks, it looks like both she and Justin will continue scraping the bottom of their shared drama barrel in order to pull some extra publicity out of the upcoming broadcast.
We're on to you, guys.