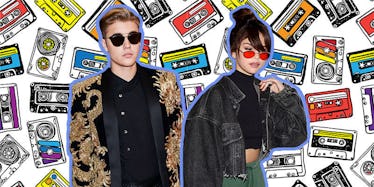 Selena Gomez And Justin Bieber May Be Collaborating On A Song Together
REX/Shutterstock
Holy crap. OMG. I need to sit down.
Selena Gomez and Justin Bieber may be collaborating on new music together, and I can't handle it.
THERE, I SAID IT. EVERYONE CALM DOWN.
Let's all take a deep breath and talk this out. Jelena may be a thing again, and now we have proof. Somebody grab me a glass of water ASAP.
The other night, Selena Gomez posted a video on Snapchat of herself singing DJ Snake's newest song featuring Justin Bieber.
She only gave followers a two-second preview (GIRL, GIVE US MORE), but it's enough for fans to make out it's the song "Let Me Love You."
So that's pretty juicy right there. BUT WAIT, there's more.
Last week, DJ Snake previewed the new song on his Twitter. You can listen to it below for comparison purposes.
YUP, it's definitely the same song as Selena's. AHHHHHHHH.
THEN, ELLE pointed out this interaction happened. HMMM, V. INTERESTING.
@selenagomez — DJ SNAKE (@djsnake) July 31, 2016
THEN, DJ SNAKE LIKED SOME OF THESE TWEETS. IT'S HAPPENING. IT'S REALLY HAPPENING.
According to ELLE, DJ Snake deleted and un-liked some of the evidence, but we still have the screenshots to prove it.
Sorry, dude!
All right, so what does this all mean? JUSTIN AND SELENA, WHAT DO YOU MEAN?!
Well, if you ask me, I think the ex-lovers are definitely working on a song together.
Is this their way to let fans know they may be getting back together?!
OMG, I can only hope. JELENA IS FOREVER.
Citations: Selena Gomez Justin Bieber Song Collaboration (ELLE)