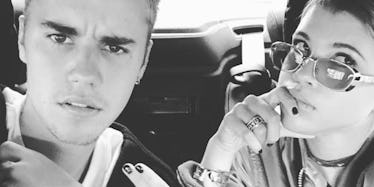 Meet Sofia Richie, The Teen Getting Between Justin Bieber And Selena Gomez
No father wants his teenage daughter dating Justin Bieber, but it's 2016, kids are growing up fast and Lionel Richie will just have to suck it up and deal.
The legendary producer and recording artist's 17-year-old daughter (and, fun fact, Michael Jackson's goddaughter) is the recent star of Justin Bieber's Instagram -- breaking fans' and allegedly Selena Gomez's hearts.
But, you guys, guys, listen, you guys, who IS she? Who IS Justin Bieber's new obsession? Where did she COME from? Has she ever even BEEN to the Grand Canyon? Does she even EAT shrimp?
Today, we will attempt to answer, like, half of these questions.
We know Sofia Richie comes from a famous family, recognized for their contributions to the world of music and reality TV.
We know she's a model.
We know her friends are models.
We know she knows Kylie Jenner.
We know she was invited to the 2015 Met Ball as one of Stella McCartney's guests and attended again this year.
We know Justin Bieber is NOT shy about sharing photos of her.
Damn, Justin.
Sofia's fine letting followers in on her budding relationship with the Biebs, too.
We get it. You're both young and beautiful and rich and totally enamored of each other.
Citations: Who is Justin Bieber's Alleged New Girlfriend, Sofia Richie? (Cosmopolitan)