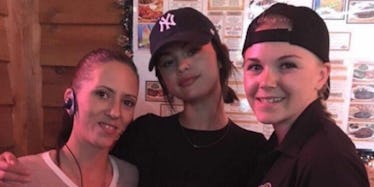 Selena Gomez Isn't Letting That Personal Break Keep Her Away From Fans
Twitter
Selena Gomez can run, but she can't hide.
The singer is taking a break from the spotlight at the moment — but that doesn't mean we don't know exactly what she's up to.
She swung by the Texas Roadhouse in Alcoa, Tennessee, over the weekend.
Glorious photos and videos emerged showing her posing with fans and then dancing the afternoon away like the absolute party girl she is.
LOOK AT THIS:
the queen is back #selenaisbackparty pic.twitter.com/DS2cFQ0yrv — spooky bitch (@kissinqmendes) October 9, 2016
THAT FACE!
Selena Gomez is back, guys.
Fans were so pumped to have her back on the scene that #SelenaIsBackParty started trending on Twitter.
A mess ... Twitter was a mess.
I MISSED HER SO DAMN MUCH I CANT BELIEVE THIS IS HAPPENING #SelenaIsBackParty pic.twitter.com/suVC7A492R — Feel Me Stan (@SelsBodyHeat) October 8, 2016
A witness told E! everyone's favorite girl enjoyed a meal during her visit on Saturday.
She enjoyed herself and was there for a late lunch. She couldn't have been more gracious to everyone and to the fans and was more than happy to take pictures with whoever.
Her return is such a big deal because it comes after the singer revealed she's struggling with lupus, which can bring on anxiety, depression and overall side effects you'd be better off without.
She released a statement about it and then announced she'd be taking some time off for herself after her tour in August.
The statement read,
As many of you know, around a year ago I revealed that I have lupus. I've discovered that anxiety, panic attacks and depression can be side effects of lupus, which can present their own challenges.
Back in October last year, Selena revealed she was undergoing chemotherapy to treat the illness.
The statement went on to say,
I want to be proactive and focus on maintaining my health and happiness and have decided that the best way forward is to take some time off.
Now she's back and our lives can continue.
Citations: E!