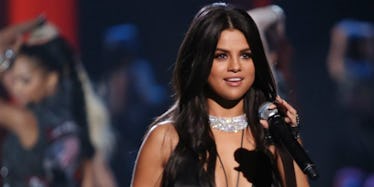 Selena Gomez Opens Up About Being Bullied While On The Disney Channel
REX/Shutterstock
Selena Gomez isn't just one of the most successful stars to come out of the Disney Channel -- she's probably one of the most highly scrutinized.
Between dealing with constant paparazzi, Gomez also has to cope with trolls on the Internet -- 114 million followers on Instagram doesn't come without a price.
Despite having to confront rumors about her stint in rehab, her anxiety and depression, as well as her love life, this source of attention is old news for the actress and singer.
She admits the bullying happened way back when she starred in her Disney Channel series "Wizards of Waverley Place."
In a recent interview with the New York Times, Gomez discussed her newest project: serving as executive producer for "Thirteen Reasons Why."
Based on the young adult bestseller, her upcoming Netflix show is about a high school girl who commits suicide and leaves behind cassette tapes detailing the 13 people she blames for her death.
Needless to say, Gomez felt an affinity towards the project. She said,
I went to the biggest high school in the world, which is the Disney Channel. And my mom had a lot of history dealing with [bullying]. I heard her stories growing up. She's very open about it.
Her mother Mandy Teefey, who also serves as an executive producer and originally found the book in a Barnes and Noble, added,
When I was growing up, I was always bullied because I was the outsider, the weird girl with the purple hair and combat boots. Then I was a teen mom. You get really judged. I had counselors telling me how I'd ruined my life, [Selena's] life and how I ruined the father's life, even though he participated.
Gomez was just 15 when they started to option the story, but the now 24-year-old feels more connected to it than ever, especially after her 90-day retreat for health reasons.
Gomez said,
It felt like [the show] was mirroring what was going on in my life.
She added, regarding Instagram,
I delete the app from my phone at least once a week. You fixate on the [negative] ones. It's like they want to cut to your soul. Imagine all the insecurities that you already feel about yourself and having someone write a paragraph pointing out every little thing -- even if it's just physical.
Citations: Selena Gomez (and Others) on Adapting 'Thirteen Reasons Why' for Netflix (NY Times)