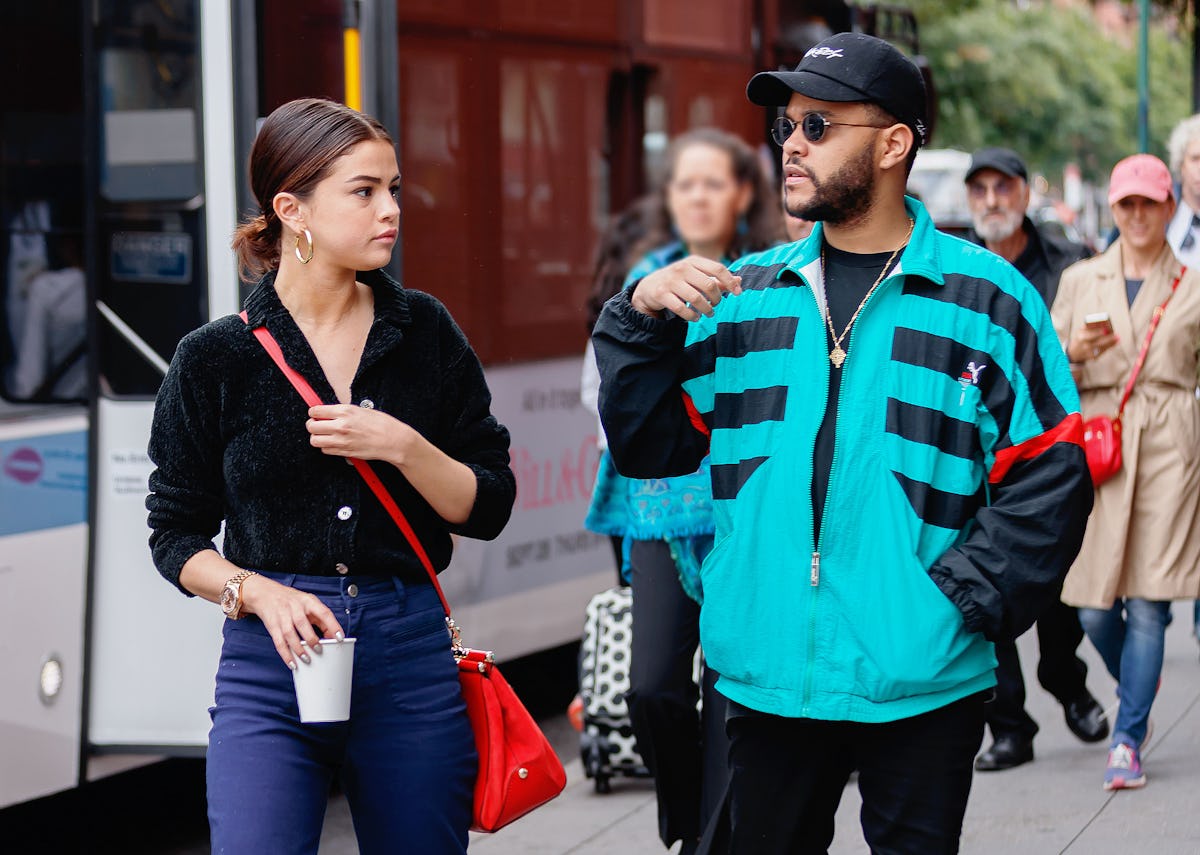 The Weeknd Reportedly Dumped Selena Gomez Over The Phone, So That Sucks
By now, you all must have heard that Selena Gomez and The Weeknd broke up. You also must have heard that Selena Gomez and Justin Bieber are hanging out again, sparking reconciliation rumors. But now, we've learned exactly how the breakup went down, and it's honestly kind of sad. According to TMZ, Selena Gomez and The Weeknd's breakup was over the phone. Yup, The Weeknd was apparently the one to call things off, saying their relationship lost its passion. Elite Daily reached out to Gomez and The Weeknd's teams for comment, but did not hear back by time of publication.
Gomez and Tesfaye's relationship had apparently been losing its spark since the summer, according to TMZ. As previously reported, their conflicting schedules caused a lot of distance, and that distance apparently made their passion fizzle out. TMZ reports The Weeknd felt it was unfair to be committed to a relationship that lost its passion, so he called Gomez and ended things over the phone. They reportedly ended the relationship amicably and have been in contact a couple of times since breaking up, although The Weeknd has started unfollowing Gomez's close friends and family on Instagram. They still follow each other on Instagram as of right now.
Even though their breakup reportedly wasn't caused by Justin Bieber, fans think there's a link between Gomez and The Weeknd breaking up and Gomez starting to hang out with Bieber so quickly.
The former lovebirds were recently seen getting breakfast and going to church together, and then, earlier this week, riding bikes together around L.A. According to sources close to Gomez and Bieber, she's considering getting back together with him but is enjoying being single for now. As for Bieber, he reportedly has wanted to get back together with Gomez for a while (*internet feigns surprise*). A source told Us Weekly,
The ball is in Selena's court right now. She was happy with The Weeknd but Justin always has the biggest piece of her heart. This situation is a heartstring type of thing. She has to figure out what she wants.
Another source added,
[Bieber] has been texting her nonstop and hangs out with her whenever he can. Selena insisted that they were just friends and that The Weeknd had nothing to worry about, but she can't deny that she still loves Justin. He had such a big piece of her heart and was such a huge part of her life for so long. She can't just let him go.
Despite the fact that Gomez seems to be rebounding with Justin Bieber, sources close to them say their reconciliation didn't cause The Weeknd to break up with her.
Gomez and Bieber reportedly got back in touch with each other after Gomez revealed she had a kidney transplant earlier this summer, and they've been hanging out platonically ever since with The Weeknd's knowledge. A source did reveal, however, that while he was cool with Bieber hanging out with Gomez, he didn't trust him. A source told Us Weekly that The Weeknd "didn't care" they were friends again originally, but then he started trusting Bieber less and less. The source revealed, "He trusted Selena, but he really didn't trust Justin."
Now that The Weeknd and Gomez are officially done, Gomez and Bieber have apparently been hanging out a lot more. So much, in fact, that their friends think they're on their way to getting back together for real. A source told Us Weekly,
It's definitely a possibility that they could get back together. It'll be a long situation and there won't be a decision made tomorrow, and it'll be a lot of back and forth, but ultimately, [their] friends think it will end up in that direction.
Some fans don't think Gomez should get back with Bieber, however, so we'll see how all of this plays out.