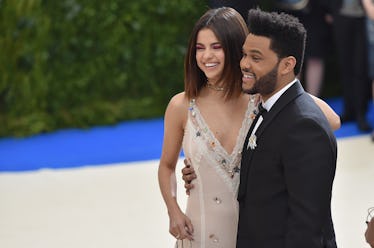 The Weeknd Unfollowed Selena Gomez's Friends & Family On Instagram, So This Is Serious
Theo Wargo/Getty Images Entertainment/Getty Images
Following the news of their reported breakup, The Weeknd unfollowed Selena Gomez's friends and family on Instagram, which we all know is the thing you do when you and your bae break up for good. So yeah, hate to break it to all of you who are in denial about the Abelena breakup, but this is the real deal. Selena Gomez and The Weeknd are no more. They still follow each other on Instagram, however, so don't cry too much.
As previously reported, Selena Gomez and The Weeknd have called it quits after about 10 months of dating. Sources close to the former couple say it was distance that drew them apart (The Weeknd was on tour for a good chunk of their relationship) and that they had apparently felt their relationship moving in this direction for a while before ending things for good. A source told People,
[Selena] and Abel have been going back and forth for a few months about their relationship. It's been hard with him being on tour and her shooting in New York. That wasn't easy on them.
To make matters more interesting, Selena Gomez and Justin Bieber have been hanging out recently. They were seen getting breakfast and going to church together on Oct. 29, but the insider says the Abelena breakup has nothing to do with Bieber. According to reports, The Weeknd (whose real name is Abel Tesfaye) knew about Gomez and Bieber hanging out on a separate occasion and was cool with it.
Despite all of the Bieber talk, the insider claims their breakup comes after months of trying to make distance work. They said, "It's been hard for them to come to the realization that this is the direction things were heading, but it's been hard for months."
Some fans were super bummed to hear about the breakup, but others weren't all that surprised they didn't last.
This seems to be The Weeknd's go-to breakup routine. When he and Bella Hadid broke up last year, he unfollowed her friends and family before eventually unfollowing Hadid altogether not long after. When Gomez and The Weeknd got together, Hadid unfollowed both of them on social media. This is what exes do, guys. You don't want to see reminders of them in your timeline while you're trying to get over them, so you cut 'em out. I'd say it's only a matter of time before Gomez and The Weeknd unfollow each other.
Now that Gomez and Bieber are hanging out again, fans are convinced Jelena will rise once more. (It's Halloween, of course I'm going to speak this dramatically.)
According to reports, the exes spent Sunday, Oct. 29 getting breakfast at a spot in L.A. and sitting front row at Zoe Church together.
The pair reportedly reconnected (in a platonic sense) following Gomez's announcement that she had a kidney transplant over the summer. Given that, I'd say it's likely she and Bieber are just trying to move on from their complicated past and develop a healthy friendship, no romance involved. But that's just me! Who knows what time will tell for Jelena.
One thing's for sure: fans want them to get back together already.
According to Us Weekly, the breakfast was super chill. A source told the outlet there didn't seem to be anything romantic about the get-together. They said,
They grabbed breakfast, blueberry smoothies with whipped cream, and were just talking — none of the staff really recognized them. Justin paid for both of them, they looked to be in a good mood, they just sat at a table and chatted for a while, no hand holding or anything, the conversation seemed lighthearted. They sat at a table inside where they had a little more privacy. They stayed for about 25 minutes before leaving together.
Despite the claims that this breakfast and church day was completely platonic, another source told Us Weekly that Gomez reportedly would consider getting back together with Bieber. They said, "The ball is in Selena's court right now," adding,
She was happy with The Weeknd but Justin always has the biggest piece of her heart. This situation is a heartstring type of thing. She has to figure out what she wants.
When it comes to Bieber, the source says he reportedly wants to get back together with Gomez. Another source revealed,
Justin really wants to get back with Selena. He has been texting her nonstop and hangs out with her whenever he can. Selena insisted that they were just friends and that The Weeknd had nothing to worry about, but she can't deny that she still loves Justin. He had such a big piece of her heart and was such a huge part of her life for so long. She can't just let him go.
Color me confused.