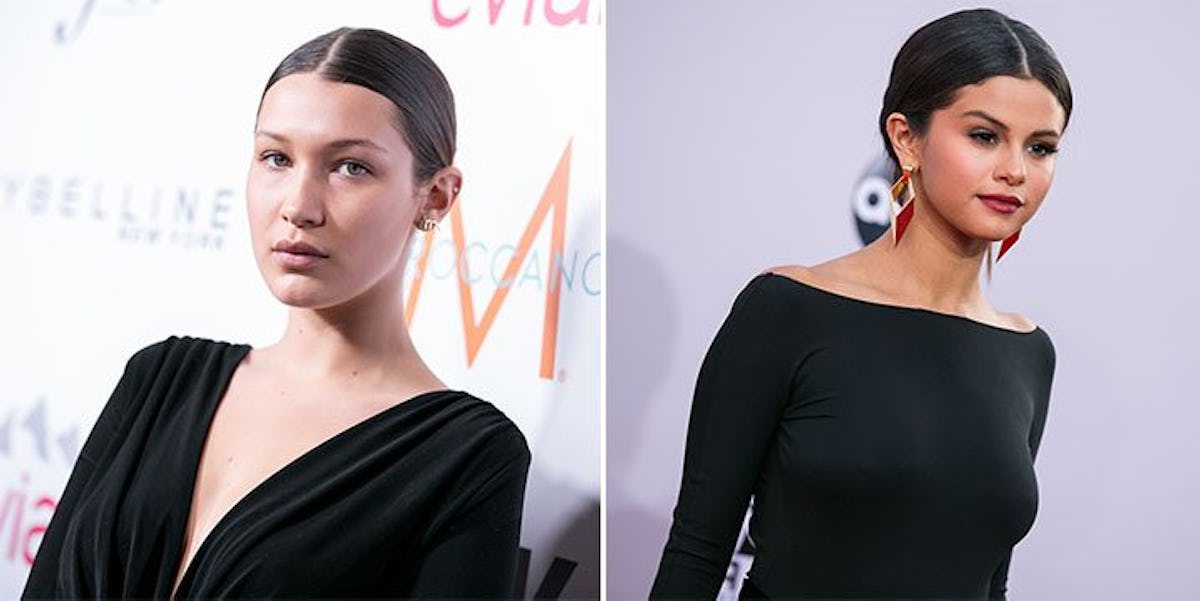 Bella Hadid Just Threw Major Shade Back At The Weeknd And Selena Gomez
REX/Shutterstock
Do drama, or don't do drama — there is no "try."
Hollywood's most lukewarm love triangle continued to raised hell at a glacial pace when Bella Hadid unfollowed ex The Weeknd (Abel Tesfaye) and ex-pal Selena Gomez on Instagram one full week after the new couple unfollowed her.
It's becoming impossible to tell whether Hadid is actually mad about her ex moving on so quickly and, if so, why are her digs so intermittent?
Back in January, sources told Us Weekly Hadid had accused Gomez of "using" The Weekend for press.
Now, three months later, the fire she started with that teeny drama spark has flickered out, and an unfollow doesn't say much on its own.
In an interview for PORTER magazine's summer issue, the model insisted she's not concerned with anyone's business but her own these days.
She said,
I'm just really focusing on myself, and my work, and just being the best that I can be. I'm not really worried about what guys think about me, I'm just trying to be a woman!
Perhaps Hadid's unfollow wasn't so much a barb directed at the couple, but an effort to clear her mind from painful distractions and focus on being happy alone.
Gomez's unfollow could very well be something of the same sort, following her three-month hiatus last year to deal with her anxiety and depression.
Now, rather than trying to achieve some unattainable aesthetic online and promote that lifestyle to fans, she's trying to be as real as possible.
In an interview with Vogue for the magazine's April cover story, Gomez shared,
People so badly wanted me to be authentic, and when that happened, finally, it was a huge release. I'm not different from what I put out there. I've been very vulnerable with my fans, and sometimes I say things I shouldn't. But I have to be honest with them. I feel that's a huge part of why I'm where I am.
Perhaps what we're dealing with here isn't a case of petty dramz, but three people attempting to be mature and mind their own beeswax.
Citations: Bella Hadid Just Got Petty With The Weeknd As Breakup Drama Continues (Refinery29)