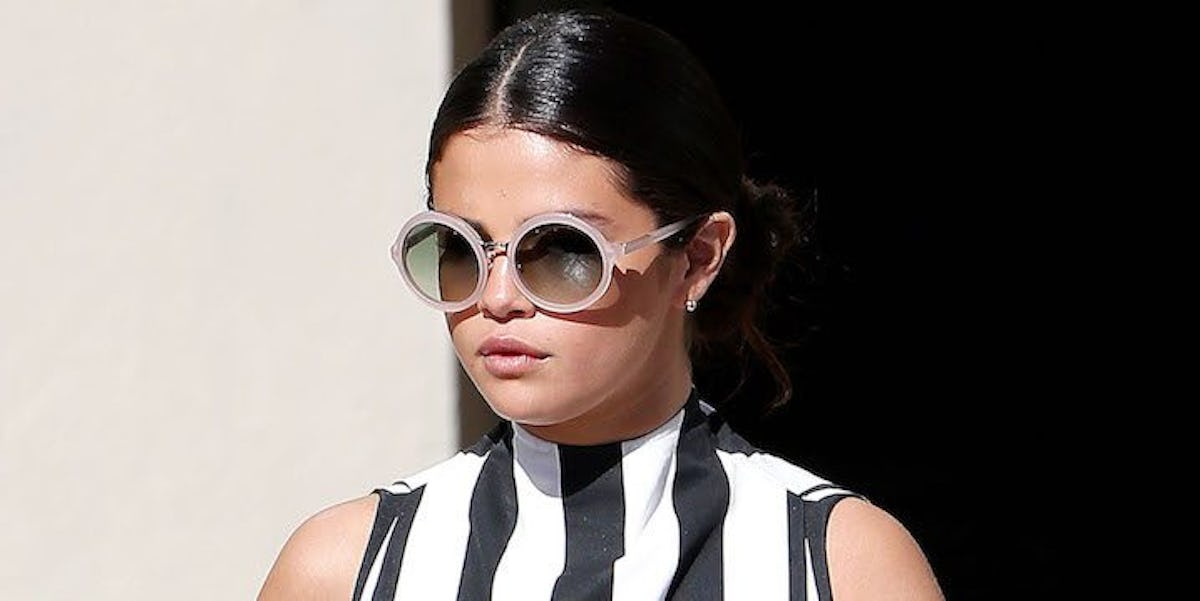 Selena Gomez Refuses To Talk About The Weeknd In Emotional Vogue Interview
REX/Shutterstock
Ever since they were photographed kissing outside Giorgio Baldi in Santa Monica in January, Selena Gomez and The Weeknd have been unable to escape the limelight.
Eventually, the pair embraced it.
The 24-year-old Gomez and the 27-year-old Abel Tesfaye sizzled at Grammys parties and looked madly in love during a romantic getaway to Italy.
Now, though, it appears all the attention toward her new relationship is starting to take a toll on Selena Gomez.
The 24-year-old recently sat down for an interview with Vogue as part of the magazine's April cover story.
In her interview, Selena Gomez spoke about her Instagram followers, her mental health and her relationship with The Weeknd -- sort of.
Speaking on her relationship with her fans, Gomez said,
People so badly wanted me to be authentic, and when that happened, finally, it was a huge release. I'm not different from what I put out there. I've been very vulnerable with my fans, and sometimes I say things I shouldn't. But I have to be honest with them. I feel that's a huge part of why I'm where I am.
Gomez also opened up about performing night after night, and how the changing demographic of her crowds over time actually changed her. The 24-year-old said,
Tours are a really lonely place for me. My self-esteem was shot. I was depressed, anxious. I started to have panic attacks right before getting onstage, or right after leaving the stage. Basically I felt I wasn't good enough, wasn't capable. I felt I wasn't giving my fans anything, and they could see it -- which, I think, was a complete distortion. I was so used to performing for kids. At concerts I used to make the entire crowd raise up their pinkies and make a pinky promise never to allow anybody to make them feel that they weren't good enough. Suddenly I have kids smoking and drinking at my shows, people in their 20s, 30s, and I'm looking into their eyes, and I don't know what to say. I couldn't say, 'Everybody, let's pinky-promise that you're beautiful!' It doesn't work that way, and I know it because I'm dealing with the same shit they're dealing with. What I wanted to say is that life is so stressful, and I get the desire to just escape it. But I wasn't figuring my own stuff out, so I felt I had no wisdom to share. And so maybe I thought everybody out there was thinking, 'This is a waste of time.'
Eventually, Selena Gomez got around to talking about the new love of her life, The Weeknd.
However, it appears she didn't really want to talk about him at all.
Addressing her BF, she said,
Oh, Mylanta! Look, I love what I do, and I'm aware of how lucky I am, but -- how can I say this without sounding weird? I just really can't wait for people to forget about me.
I can only imagine what it would be like to have my life under the microscope 24/7.
Citations: Selena Gomez on Instagram Fatigue, Good Mental Health, and Stepping Back From the Limelight (Vogue)