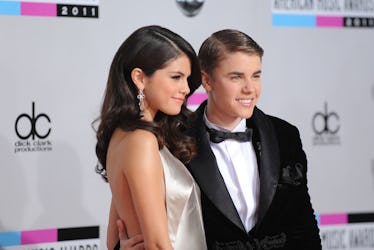 OK, Fine, The Reason Selena Gomez Is Giving Justin Bieber Another Chance Is Pretty Cute
Jason Merritt/TERM/Getty Images Entertainment/Getty Images
Selena Gomez and Justin Bieber are back together, y'all. Well, at the very least, they're giving their relationship another shot following Gomez's breakup with The Weeknd. And while many fans think it's a bad idea for Gomez and Bieber to get back together given their tumultuous history, Gomez's reason for giving the Biebs another chance is actually pretty sweet. We can forgive this, OK, guys?! The reason Selena Gomez and Justin Bieber got back together is apparently because he was Gomez's "first love," and she's giving him a second chance for that romantic reason. A source close to Gomez told People,
Justin was Selena's first love. He will always have a special place in her heart. She's always held out hope that one day the circumstances and timing would be right.
As for Bieber's side of this, a source said he's matured and wants to have a more mature relationship with his ex. The source said,
They're having a great time together. Neither are seeing anyone else and they seem happy to leave it at this for now.
"This" apparently means spending all of their time together riding bikes, going to breakfast and church, attending Bieber's hockey games, and wearing Bieber's jersey at said hockey games. You know, romantic couple stuff!
The source also told People that Bieber apparently needed time and space to realize Gomez deserved a lot more than he gave her in the past. According to the source, no one has ever compared to Gomez for Bieber. The source said,
Spending time together makes them both very happy. For Justin, no one ever came close to comparing to Selena. He always thought she was the most special and now seems mature enough to realize Selena deserves the best.
In case you're confused about how Gomez and Bieber got back together in the first place, allow me to map out the timeline.
A source told People,
She [Selena] and Abel [The Weeknd] have been going back and forth for a few months about their relationship. It's been hard with him being on tour and her shooting in New York. That wasn't easy on them.
During this time, Gomez was seen going to breakfast and church with Bieber.
Sources close to the former exes said they had been hanging out platonically ever since Gomez revealed she had a kidney transplant over the summer.
After the Gomez/Weeknd breakup, Gomez and Bieber were seen together much more often and reconciliation rumors were running rampant. Bieber and Gomez didn't really do anything to stop them.
Sources close to the pair told Us Weekly,
The ball is in Selena's court right now. She was happy with The Weeknd but Justin always has the biggest piece of her heart. This situation is a heartstring type of thing. She has to figure out what she wants.
Another source said,
He has been texting her nonstop and hangs out with her whenever he can. Selena insisted that they were just friends and that The Weeknd had nothing to worry about, but she can't deny that she still loves Justin. He had such a big piece of her heart and was such a huge part of her life for so long. She can't just let him go.
Now, it looks like Selena Gomez and Justin Bieber are officially back together. And while many fans think she should listen to Dua Lipa's "New Rules" on repeat (you know, the anthem to end all anthems telling women not to get back with their exes that also provides steps on how to avoid making the mistake), giving your first love another chance after they've seemingly proved they've matured isn't the worst thing in the world to do. No news on how Taylor Swift feels about this, though.