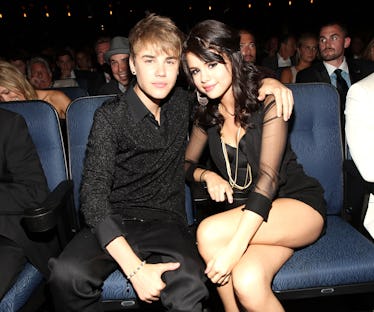 Selena Gomez Looks So In Love With Justin Bieber After Split From The Weeknd – PHOTOS
Christopher Polk/Getty Images Entertainment/Getty Images
I can't decide if Selena Gomez and Justin Bieber are messing with our heads or if they're genuinely merging back into being Jelena. I WOULD LOVE SOME ANSWERS OVER HERE. Recently, pictures of Selena Gomez and Justin Bieber have been confusing fans even more. The two decided to take a romantic-looking bike ride and it was actually pretty adorable.
Justin and Selena went on a bike ride that looked romantic AF. Both of them rode beach cruiser-style bikes — Justin's was black and Selena's was a light turquoise. So perf. The two can be seen laughing and chatting. In most of the pictures, Selena is just cracking up over something Justin said. There's also a couple pics that look like he's attempting to ride one-handed... apparently also laugh-worthy. LOL, HE'S THE BEST.
Obviously, there's been no comment or confirmation as to if these two are strictly platonic or starting to stir things up romantically again. The pair looked super cozy on their could-be date. Selena wore gray leggings and a matching sweatshirt with white sneakers. Justin opted for black and red basketball shorts with a red "Thrasher" sweatshirt.
Honestly, aren't they hot wearing that in Los Angeles? Someone on the West Coast please explain how you wear cute sweaters when the weather is hot. I could never survive there. Anyways, Selena and Justin seem totally unaffected by the weather and are focused on having a splendid time together.
I'm especially confused by the pictures of Selena and Justin walking with their arms linked. Like, do they want us to think they're dating or are they just trying to live their lives? JUST BE REAL WITH US.
Jelena rumors have been strong for the past couple of weeks. There were some gentle stirrings about Bieber making an appearance at Selena's house with some friends, but lately all their recent outings have blown up as a huge deal.
According to TMZ, Gomez and Bieber spent all of Oct. 29 going to church, lunching, and hanging out. So weird. TMZ reported that the singers grabbed lunch together at Joi Cafe in Westlake Village, California. The pictures don't look incriminating; the two just seem to be sitting and chatting.
The reason these hangouts are getting so much attention is because they are coming right on the heels of Selena's break up with The Weeknd.
On Oct. 30, word spread that Selena Gomez and The Weeknd reportedly called things off after being together for 10 months. One insider told People that their grueling schedules had something to do with it, and despite Gomez's "best efforts" to be at all of The Weeknd's shows, she could only do so much.
The source said,
She [Selena] and Abel [The Weeknd] have been going back and forth for a few months about their relationship. It's been hard with him being on tour and her shooting in New York. That wasn't easy on them.
The split seems like it was mutual, but fans definitely have opposing reactions. Some fans are so, so excited that this could mean Jelena has a chance at resurrection.
Others think Selena should leave the past in the past.
I'm interested to see if Justin and Selena's relationship develops into even more. I'll give it a month before I believe their possible relationship is for real. However, I am here for the rallying fans. Jelena seemingly ended in 2013, but fans are still as supportive as ever. Pretty amazing.
Will Selena Gomez and Justin Bieber ever define their relationship? I guess they really don't have to, but I SO WISH THEY WOULD.
Check out the entire Gen Why series and other videos on Facebook and the Bustle app across Apple TV, Roku, and Amazon Fire TV.