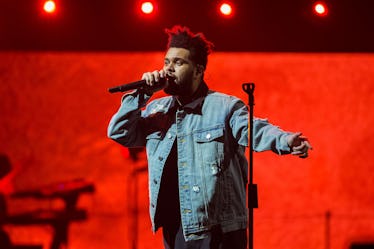 The Weeknd DGAF About Selena Gomez Breakup Rumors, Posts Instagram Selfie
SUZANNE CORDEIRO/AFP/Getty Images
It was a cold Monday on Oct. 30 when news broke the Selena Gomez and The Weeknd were reportedly calling it quits. Fans began the mourning process as source after source came forward explaining that it was a mutual decision that was difficult for both parties to make. The Weeknd's response to his reported breakup with Selena Gomez happens to be the most casual Instagram ever, but we know he's def hurting on the inside.
Elite Daily reached out to both Gomez' and The Weeknd's teams for comment, but did not hear back by the time of publication.
According to People magazine, the famous relationship has actually been on the rocks for some time. One source claimed,
She [Selena] and Abel have been going back and forth for a few months about their relationship. It's been hard with him being on tour and her shooting in New York. That wasn't easy on them.
As we've all seen and heard before in Holly-weird, the vigorous schedule that comes with being one of today's hottest pop musicians is enough to make any one person stressed out, let alone two trying to maneuver it together. Despite Gomez' "best efforts" to be at as many of The Weeknd's concerts as she could, a source says, "It's over for now, but they're still in touch."
The news probably has a little more shock value to it, considering how happy the couple has looked ever since they went public ten months ago. But on Oct. 30, the same day rumors broke the couple called it quits, Abel went to Instagram to post a selfie.
He simply captioned the post, "Toronto Nights." Although he said nothing about Selena Gomez in the post, fans immediately flooded the picture with supportive messages like, "I love you so much" and "I'm single." Lol.
It's hard for many loyal fans to process because the two looked so perfect together. We've all seen the glamorous Met Gala photos. We've all stalked their joint Instagram pics. To know Gomez is single and could write another breakup song is devastating. After all, it was not all that long ago when she opened up to Ryan Seacrest on his radio show, On Air With Ryan Seacrest, about the decision to go public with The Weeknd.
At the time, she said,
I'm just genuinely myself. It's really hard when I would want to spend so much time hiding things. It's too much pressure, and I think that everyone gets over everything eventually… that's what I've learned.
... I just want to be happy. If that's me just being myself, then I don't really care.
The public is also alarmed as Gomez was recently spotted grabbing lunch with ex Justin Bieber.
Yes, you read that right — recently spotted, as in end of October – with her ex, as in Justin The Biebs Bieber.
A source insisted that the split has nothing to do with Justin, but boy, oh boy is the timing suspicious. The source claims,
It's been hard for them [Selena and The Weeknd] to come to the realization that this is the direction things were heading, but it's been hard for months.
Now, with The Weeknd's "IDGAF" Instagram, we can all take it as an official sign to get up and move on, because this ship as sailed.
It's also been a particularly challenging year for Gomez, who continues to share about her on-going struggles with Lupus Disease and announcing that she underwent a kidney transplant over the summer.
Combined with the regular stresses and anxieties of your average every day relationship, it is understandable if The Weeknd and Gomez decided to go their own separate ways. Still, it hurts just the same.
We love you guys, Selena and Abel.