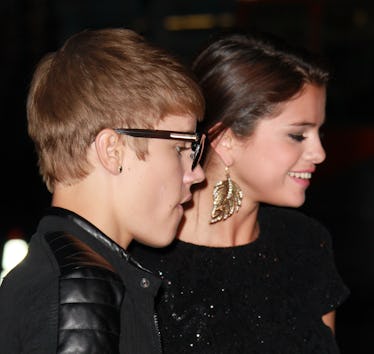 Selena Gomez & Justin Bieber Made Out In The Street After A Concert & There Are Pics
David Livingston/Getty Images Entertainment/Getty Images
There are always those couples we can constantly count on to get together, break up, and then get back together again, in a vicious and heart-wrenching cycle. One of these infamous back-and-fourth couples happens to be comprised of notorious heartbreaker, Justin Bieber, and goddess of everything perfect, Selena Gomez. Even though I'm personally a little tired of seeing Selly G. repeatedly getting her heart broken and re-broken, the latest photos of Selena Gomez and Justin Bieber kissing in the street are inarguably cute AF.
On Feb. 8, Gomez and Bieber went on a date to a Rex Orange County concert at El Rey theater in Los Angeles, according to Hollywood Life. Post-concert, the two reportedly went backstage to talk with up-and-coming British artist, Alex O'Connor, better known as Rex Orange County. And based on the footage of Jelena's steamy make out sesh paparazzi snapped from the street afterwards, there's no doubt in my mind that Jelena enjoyed their night out together.
An eyewitness told Hollywood Life that the pair seemed super happy together — so we're really hoping that their problems are finally in the past, and that maybe Bieber is finally growing up...? But based off the fact Gomez reportedly had a smile plastered across her face the whole time, it seems like the two were truly enjoying each other's company. The witness told Hollywood Life:
Selena and Justin were backstage after the show talking to Alex, they were both so warm and humble. Justin was doing most of the talking, Selena was more quiet. She was holding Justin's hand and smiling a lot. When they were leaving Justin put his arm around Selena and she had her arm around him, they were practically wrapped around each other, like they couldn't get close enough.
Since the two are super on-and-off, Twitter is pretty salty about the fact they're back together, and I'm totally with all of them. In my eyes, Gomez is a perfect soul, and I'm personally not sure why she keeps going back to the Biebs. We're all just kind of feeling that although there aren't many people out there that are good enough for Selena, Bieber definitely doesn't come close.
Much of the Twitterverse, however, feels that Jelena either totally works as a couple, or that people should just stop caring. In all honesty, there's no way I'm going to stop caring about my girl, but many out there feel that Gomez and Bieber are adults, and that they can work out their own issues. That is true, but that definitely doesn't mean it doesn't have me feeling some type of way.
Here's what Twitter had to say about it.
Though the post-concert make out is the most recent documentation of Jelena's PDA, this isn't their first reappearance together in public since they started dating again. The couple reportedly spent a sunny New Years 2018 together in Cabo, Mexico, and were caught kissing at Bieber's ice hockey game back in November 2017.
Gomez also divulged to fans the ins and outs of her ongoing relationship with Bieber, explaining that the two have "gone through seasons in (their) lives," and that "maybe before, it could have been forcing something that wasn't right. But that doesn't mean caring for someone ever goes away." So the bottom line is, in the words of The Notebook, "It was never over, it still isn't over."
Despite their tumultuous relationship over the last few years, Jelena is reunited just in time for Valentine's Day. Since Biebs is, I guess, somewhat of a softie at heart, we're really looking forward to seeing what he has planned for the two during the world's biggest Hallmark holiday.
Check out the entire Gen Why series and other videos on Facebook and the Bustle app across Apple TV, Roku, and Amazon Fire TV.