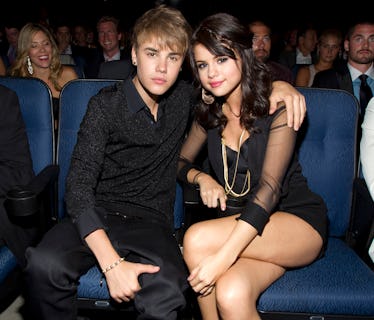 Selena Gomez's Mom Isn't Happy That Justin Bieber & Her Daughter Are Back Together
Christopher Polk/Getty Images Entertainment/Getty Images
It's a universal fact that mother knows best, right? Selena Gomez's unsuspected rekindling with long time off-and-on flame Justin Bieber has sparked an uproar among the media, leading many to question whether this time around will actually last. Well, it appears that not even Selena Gomez's mom, Mandy Teefey, can keep these two lovebirds apart. In an interview with Gossip Cop, Selena Gomez's mom's comments about Justin Bieber revealed that she's not so excited about the couple being back together. Yikes.
Despite social media obsessively stanning the couple for years, Teefey revealed to Gossip Cop that she's "not happy" about her daughter rekindling a romance with Bieber. However, she did admit that Gomez is an adult and said she will support her decision. Teefey said,
"She is 25 years old and knows what is at stake with her health," Teefey told Gossip Cop. "Selena is an adult and can make her own choices."
She added, "Selena can live her life however she wants as long as she is happy, safe and healthy."
On the other hand, Bieber's mother Pattie Mallette is reportedly overjoyed at the couple's rekindled romance. While attending the Justice Speaks Holiday Luncheon benefit in LA on Dec. 9, 2017, Mallette didn't reveal much about her son and Gomez's relationship, but did gush to PEOPLE about her personal admiration for Gomez.
I don't know so much about their personal relationship because he doesn't share a whole lot, but I love her. I support anything [he does], if he loves her I love her, and I've met her and we have a special bond so I think she's precious. I can't really speak on their relationship, that's between them.
Same Pattie, same.
Teefey and Gomez have reportedly been estranged over the past few months, but Bieber is supposedly not the main problem behind the mother-daughter's distance. Teefey was Gomez's manager up until 2014, where Gomez made the decision to end the arrangement. The decision reportedly had a huge impact Teefey, leading to a prolonged rift between the two, according to an E! News source. The source said,
Mandy and Selena's stepdad [Brian Teefey] really did everything they could for Selena so when she fired her it took a toll on Mandy emotionally and professionally.
This rift, which according to the source lasted an entire year, included Gomez and her mother unfollowing each other on Instagram in December 2017. The two have since followed each other back. In the same Gossip Cop interview, Teefey denied the rumors of an estrangement. "Every mother and daughter has disagreements," she said.
Despite Teefey's displeasure at her daughter and Bieber's relationship, Bieber is apparently determined to win back the approval of Gomez's family. PEOPLE reported that the singer is aware of his image to Gomez's family and plans to prove he's changed.
"Justin is aware Selena's family is not thrilled they are hanging out. They think he caused Selena a lot of grief," a source told PEOPLE. "Justin hopes he can prove to them that he has changed."
Gomez and Bieber dated on and off from 2011 to 2015, drawing much attention from media outlets and social media followers. After finally calling it quits, Gomez began dating R&B enigma Abel Tesfaye, also known by his stage name The Weeknd, in January 2017. While Gomez and Tesfaye's romance was totally swoon-worthy, Gomez eventually ended things with the singer-songwriter in October 2017, reportedly due to scheduling conflicts.
Shortly after, Gomez and Bieber ended up getting back together. The two apparently reunited as friends after Bieber visited Gomez in the hospital, where on Sep. 24, 2017 she shocked everyone with a sudden Instagram post revealing she had undergone a kidney transplant related to her Lupus diagnosis. Eventually, photos began surfacing of the two spending a lot of time together, along with rumors that they were dating again.
And of course, the smooching quickly followed.
While Mama Teefey may not be so pleased with this real life love story, Twitter definitely is. Good luck to you two crazy kids.