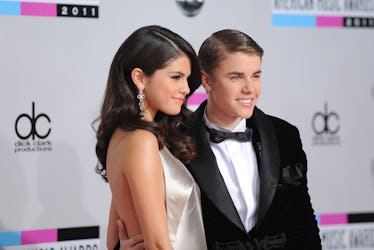 These Tweets About Selena Gomez & Justin Bieber Kissing Prove Fans Can't Handle Jelena
Jason Merritt/TERM/Getty Images Entertainment/Getty Images
Jelena is back, you guys. This is not a drill. A photo of the couple kissing is all the proof we need. TMZ.com shared the passionate kiss pic and the tweets about Selena Gomez and Justin Bieber kissing are bonkers. Let's check out what everyone is saying.
In the pic, Gomez plants a kiss on Bieber during his weekly hockey game in L.A. after he glided over to visit her during his time on the ice.
She last checked out Bieber on ice a couple of weeks ago, which definitely had everyone getting those old-school Jelena feels when she wore his jersey. This kiss, however, takes things to a new level and fans have absolutely no chill. And they shouldn't because this is pretty epic.
This PDA moment all comes on the heels of Gomez's recent breakup with The Weeknd, which was followed by the rumored re-coupling of Gomez and Bieber. It was all enough to make our heads spin, for sure. Everyone has been watching and waiting for the pair to confirm that they are definitely back on and this is a sure sign that they are more than just friends.
Some fans were clearly shouting this new development from the rooftops and, honestly, that feeling is so real:
Other fans screamed: "OMGGGGGGGGG JELENA IT'S OFFICIAL OMGGGGG," "Jelena is officially alive and i'm totally dead," and "so jelena is really back." Yes, yes they are.
And, yeah, this is totally the time to do your happy dance.
Another fan asked: "How many of you still want to say they are 'just friends'?," while still another admitted: "Not gonna lie, I SCREAMED." You're not alone.
Everyone was gushing over the Bieber and Gomez kiss, but there was another reason to say "awww" because the "Wolves" singer brought her sweet dog to the game too. I honestly can't handle the cute overload with this whole situation. What's cuter than rekindled love? Puppies.
Another fan noted that this day is one that shall live on forever, tweeting:
Fans are still recovering from the couple revisiting an old date spot earlier this week, so this kiss has really pushed some people over the edge.
There's just massive happiness all around to see these two back in each other's lives.
How serious are Gomez and Bieber? An insider recently told People: Justin was Selena's first love. He will always have a special place in her heart. She's always held out hope that one day the circumstances and timing would be right."
Another source added that things are good between Bieber and Gomez, explaining:
They're having a great time together. Neither are seeing anyone else and they seem happy to leave it at this for now. Spending time together makes them both very happy. For Justin, no one ever came close to comparing to Selena. He always thought she was the most special and now seems mature enough to realize Selena deserves the best.
Additionally, an insider close to Bieber told People that the couple aren't rushing in to anything, explaining:
He is trying to take things slowly, but it hasn't really worked. He is too excited to spend time with her. He is waiting for Selena to tell him that they are officially back together. He doesn't feel any rush, because no doubt they are already emotionally back together.
The source added:
Justin still needs to win her family over and he realizes it will take some time. But he very much feels he is a different person. He knows what he did wrong in the past and understands that Selena deserves better. He wants to be with her and will do anything to prove he can be a great boyfriend.
They definitely look happy together!
Check out the entire Gen Why series and other videos on Facebook and the Bustle app across Apple TV, Roku, and Amazon Fire TV.