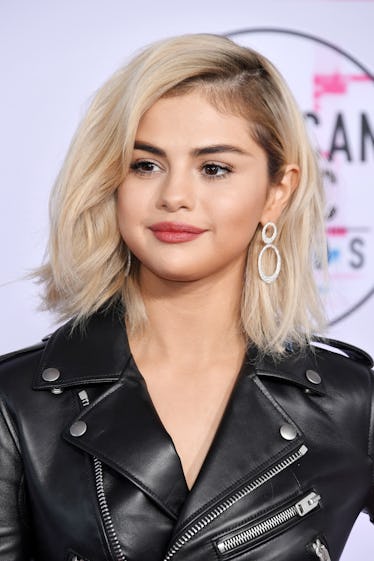 What's Really Going On With Selena Gomez's Mom Doesn't Involve Justin Bieber
Neilson Barnard/Getty Images Entertainment/Getty Images
Earlier this month, it was reported that Selena Gomez's mother, Mandy Teefey, was rushed to the hospital. At the time, there was speculation she was under a great amount of stress due to Gomez getting back together with her famous ex Justin Bieber. Since then, it's been suggested that Teefey and Gomez have a strained relationship and have been in an ongoing fight due to Gomez's decision to take Bieber back. However, new sources say Selena Gomez's fight with her mom actually had nothing to do with Justin Bieber, so now we don't know what to think.
According to TMZ, authorities arrived at Teefey's home on Dec. 19 after a "welfare check" was requested by one of her family members. At the time, she was voluntarily transported to a nearby hospital for treatment, but was not placed under a 5150 hold (an involuntary psychiatric hold). TMZ reported the hospitalization was caused by a "heated" discussion with Gomez about Bieber, though it was never officially confirmed. Elite Daily reached out to Selena Gomez's team for comment, but did not hear back by time of publication.
Now, E! News is saying the ongoing argument actually has nothing to do with Bieber.
According to sources, Gomez and her mother have a strained relationship outside of Gomez's romantic life. One source told E!,
Selena has always said that the one person that means the most to her is her mom, Mandy. But still, they've had a really complicated relationship and have gone through a lot of ups and downs.
Apparently, a lot of the drama began when Gomez decided she no longer wanted her mother as a manager back in 2014.
The source explained there was "an entire year" that Gomez and Teefey went without speaking, and added, "It caused a huge rift in their relationship. Mandy wouldn't even let Selena talk to her sister for a long time."
Reportedly, being removed as manager was a huge emotional blow to Teefey. The source continued,
Mandy and Selena's stepdad [Brian Teefey] really did everything they could for Selena so when she fired her it took a toll on Mandy emotionally and professionally.
Teefey is also the executive producer of the famous Netflix drama 13 Reasons Why with Gomez, and being removed as manager gave her a "really hard time" when it came to that show. The insider added,
Mandy lost her clout as a manager after Selena left. It caused a major rift in their relationship, but they eventually reconnected.
As for Bieber, it sounds like he's actually Gomez's support system right now. Despite knowing he has a long way to go to get back into her family's good graces, sources suggest Gomez is leaning on him heavily during this rocky time with her family.
The insider said,
Selena is dealing with some family issues at the moment and Justin is there for her. He doesn't want to cause any problems between Selena and her mom... Justin and Selena are still together.
I mean, obviously. Almost immediately after Gomez's breakup with The Weeknd, photos surfaced of Gomez and Bieber smooching and hanging out. A friend of the Biebs told Elle magazine,
Justin is aware Selena's family is not thrilled they are hanging out. They think he caused Selena a lot of grief. Justin hopes he can prove to them that he has changed.
Previously, a different insider told E! that Gomez's family had "so much angst" and was "very sad" that she was back together with Bieber. But, it hasn't seemed to slow their budding relationship down. In fact, they may even be spending New Year's Eve together.
Regardless of what happens between Gomez and Bieber, I hope she and her mom can continue to work things out.
Check out the entire Gen Why series and other videos on Facebook and the Bustle app across Apple TV, Roku, and Amazon Fire TV.