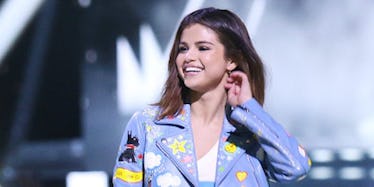 Selena Gomez Reveals '13 Reasons Why' Season 2 Spoilers And We're All Ears
Michael Tran/Getty Images
Selena Gomez has been quite the Chatty Kathy, and this time, it's about "13 Reasons Why."
Earlier this week, she opened up about her love life with The Weeknd without actually mentioning him by name (girl, you can't fool us because we know exactly who you're talking about).
She told Miami's Power 96.5 FM,
I'm the kind of girl that loves tremendously big. I just have always been that girl. I will give my heart and my soul to the person that I love. It's just how I operate. With that comes a lot, you know?
Though we were quick to pick up that bit of gossip like a pack of hungry wolves chasing meat, when you get us started on our favorite Netflix show that we've already binged five times since its release in March, The Weeknd becomes a second thought (no offense, Abel, we're sure you're lovely).
Love it or hate it, "13 Reasons Why" definitely has us hooked. While some believe the show is glorifying acts like bullying and suicide, others claim it is raising awareness of common issues teens experience.
Now Selena, the executive producer of the show — who also featured two songs in season one — opened up to Seattle radio station Movin' 92.5 about what to expect.
She particularly focused on Hannah and said,
I think for season two we elaborate more on some of those questions and the stories and the resolution, if you will, of what some of these kids have gone through so — and are going through.
I was in the writers' room the other day, and they're working so hard, and it's going to come together.
I was sitting there at the table, like, 'Wait, what happened?!' Almost like freaking out.
Oh Selena, if you're freaking out, we're like most definitely freaking out even more.
Waiting for the answers and this resolution is certainly going to be a challenge.
Citations: Selena Gomez is already almost freaking out at what happens in season 2 of "13 Reasons Why" (HelloGiggles)