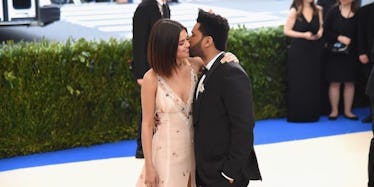 Selena Gomez Gets Candid About The Weeknd In Relatable New Interview
Nicholas Hunt
When it comes to the love department, Selena Gomez wants the same thing as the rest of us.
The 24-year-old opened up about her relationship — yet she didn't specifically reference The Weeknd (sneaky, sneaky) — in a new interview with Miami's Power 96.5 FM.
Though it can seem daunting to think about Selena's résumé — her new $2.25 million home, $10 million deal with Coach, executive producer role on the hit show "13 Reasons Why" — when on the topic of her relationship status, she seems like every other 20-something out there.
"I'm the kind of girl that loves tremendously big. I just have always been that girl," she said during the interview. "I will give my heart and my soul to the person that I love. It's just how I operate. With that comes a lot, you know?"
Oh, we know, Selena.
She casually said she's "taken" while speaking with the Florida station, and we totally know who she's talking about, even if she didn't want to name drop.
Don't think you're going to pull a fast one over us, Selena.
She continued, "I was planning a trip and I was saying, like, 'I'm going to leave,' but I was trying to get somebody really cute to tell me to stay."
Ugh! That is exactly how I feel when my boyfriend tries to get me to stay at my mom's on Long Island rather than go home to Brooklyn. I totally get it.
So maybe Selena's experiences might not be like the rest of ours — when I was 24, I was starting my first job and living in a closet-sized apartment — but you have to admit, her confessions on love do sound awfully familiar.
At the end of the day, we're all human and we want a special someone — can't fault her for that.
Have a listen to the interview below.
Citations: Power96 Miami - 96.5 FM (Facebook)