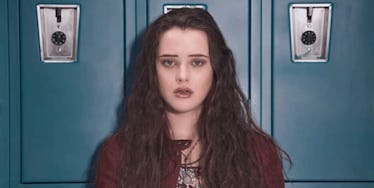 '13 Reasons Why' Broke A Netflix Record, So You Should Probably Start Watching
Netflix
The teens have spoken: "13 Reasons Why" is officially Netflix's most popular show, according to Twitter.
A recent study of social media data by Fizziology revealed more people tweeted about "13 Reasons Why" in its first week of streaming than any other show's first week on Netflix, according to Refinery29.
So if you've been feeling like everyone won't shut up about this new teen drama, you're right.
According the study, there were over 3.5 million tweets about the show just one week after it premiered on March 31.
The study found the second-most popular show by first-week tweets was "Chasing Cameron," a reality series following Vine star Cameron Dallas.
"Chasing Cameron" came in with less than half of the tweets "13 Reasons Why" received — about 1.3 million.
So basically, the teens rule us all.
"13 Reasons Why" already had a large following before it aired, thanks to a popular young adult novel of the same name written by author Jay Asher.
So that could have something to do with the show's immediate success — and the fact social media queen, Selena Gomez, is an executive producer on the show.
Gomez was originally slotted to play the show's main character, Hannah — now played by Katherine Langford — who commits suicide after she faces mental health issues.
While it's not clear why exactly Gomez decided to fall back to the producer role, she has been extremely supportive of the show and it's message about depression — a subject the singer is all too familiar with.
Last weekend, she even got matching tattoos with "13 Reasons Why" cast members Alisha Boe (Jessica) and Tommy Dorfman (Ryan) in honor of the show.
The semicolon tattoo is part of a movement called Project Semicolon. The semicolon represents what could have been the end of a sentence, or of a life, but continued on.
Clearly, this show means a lot not just to Gomez, but to those three million people out there tweeting about it.
OK, fine. I guess I'll start watching it.
Citations: 13 Reasons Why Passed A Huge Milestone For Netflix Shows (Refinery29)