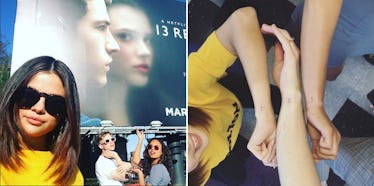 Selena Gomez's Matching Tattoo With '13 Reasons Why' Cast Has Powerful Meaning
Instagram
If you think Selena Gomez isn't very involved in the Netflix show, "13 Reasons Why," think again: She got matching tattoos with the cast.
It doesn't get much more dedicated than that!
In case you haven't seen it yet, the Netflix series follows the story of why a teenage girl (played by Katherine Langford) decided to take her own life. It was adapted from a novel of the same name, and Selena is an executive producer on the project.
This weekend, Selena joined cast members Alisha Boe (Jessica) and Tommy Dorfman (Ryan) in a mission to honor the show and its message permanently — with semicolon tattoos.
Selena documented the adventure on her Instagram story.
The three all got their tattoos right above their wrists.
The final result sends a subtle but powerful message to the world about mental health and suicide prevention.
Not everyone may be aware, but the semicolon tattoo has come to signify much more than a love of grammar.  The tattoo has become a symbol of mental health, thanks to Project Semicolon.
A social media movement started in 2013, the idea was that the semicolon represents what could have been the end (of a sentence, or of a life), but continued on instead.
The project's website reads,
Through the semicolon symbol many related to the struggle of depression, addiction, self-injury and suicide and their will to continue on.
And, as fate would have it, after the tattoos were done, Selena and the cast ran into a billboard for their show.
Selena wrote on Instagram,
Wish the rest of the crew was with us today. Overwhelmed with the response and love @13reasonswhy is receiving. Thank you to each beautiful person who has watched and talked about the message of our show.
Sadly, the founder of Project Semicolon, Amy Bleuel, died just two weeks ago on March 24, at the age of 31. Her cause of death has not yet been reported.
But Selena, Alisha, Tommy and many, many more have Bleuel's message permanently etched on their skin. Her legacy will live on for many years to come.
Citations: Selena Gomez Gets '13 Reasons Why' Tattoo With Cast (Teen Vogue)