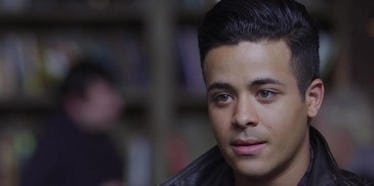 Tony From '13 Reasons Why' Defends The Show Against Critics With Heartfelt Message
Netflix
Pretty much everyone has a take on "13 Reasons Why" right now — after all, it is the most tweeted-about show to ever come out of Netflix — but not all of them are positive.
In fact, a lot of viewers have taken issue with how the show portrays suicide, accusing the series of dangerously glamorizing Hannah Baker's decision to take her own life.
As the show continues to gain popularity and has secured a second season, its stars have come out to defend "13 Reasons Why" against detractors.
Earlier this week, Katherine Langford (Hannah) stated she's proud of how the show tackled such tricky issues with thought and consideration, and now Christian Navarro (Tony) is echoing his co-star's sentiments.
Navarro told People it even feels like he and the critics of "13 Reasons Why" are watching completely different shows.
I think they're not watching the same show. When we were working on it, we had tons of mental health experts on set at all times, our producers were very diligent on making sure that the tone was inclusive and helpful and not harmful.
Navarro plays the level-headed moral compass of the show, Tony Padilla.
He went on to say he wasn't totally shocked by the backlash the show is receiving, but he thinks the show is presenting suicide in a real way and encouraged parents to watch it with their kids.
I think there's always going to be controversy. I respect their opinion, especially when it comes from a place of trying to protect their kids. I think they should listen to their children though, this is happening right now all over the world in high schools. I think the parents should watch it with them.
Christian Navarro will be back as Tony Padilla in the second season of "13 Reasons Why," which is currently being written.
Citations: 13 Reasons Why Star Christian Navarro Defends Netflix Series Against Claims It Trivializes Suicide (People)