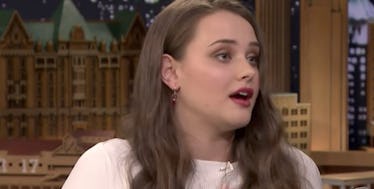 '13 Reasons Why' Star Katherine Langford Comes To The Show's Defense Amid Backlash
YouTube
There is no easy way to approach the sensitive topics of "13 Reasons Why."
Based off Jay Asher's 2007 YA novel, the Netflix show of the same name tackles subjects like suicide, teen bullying and sexual assault, so naturally, the material has been met with a bit of backlash — and there's definitely a reason why it's become so topical as of late.
According to USA Today, TV historian Tim Brooks believes it's all due to our digital generation.
In the interview, Brooks said,
It's not really a new subject, but the amplification of social media has made it more pertinent today than perhaps it was in the past.
The article further stated that schools and mental health professionals have been especially concerned as this trend continues and seemingly glorifies these actions.
Actress Katherine Langford, who plays the show's lead, Hannah Baker — who commits suicide — has come to the series' defense while on "The Tonight Show."
While in conversation with Jimmy Fallon, the young actress said,
I think we cover so many important issues in the show that are going to affect people differently depending on their own personal context.
Then, she added her personal spin to the situation and said,
Everyone's feelings are valid, so I'm not going to tell anyone to feel anything differently. But personally, being directly involved in the show and seeing the thought and consideration that went into it — also being a young adult, playing a young adult and covering issues that are relevant — I feel really proud of the way we covered it.
Everyone is definitely going to have different interpretations of the show, and understandably so. From the actor's point of view, however, it seems she and her fellow cast mates are just trying to tell the story.
In fact, if you look at her Instagram page, Langford promotes education about these issues by featuring Itsonus.org and 13reasonswhy.info for those with questions.
Watch her entire interview here.
Citations: Lady Gaga Taught 13 Reasons' Katherine Langford to Play Piano (YouTube), Is '13 Reasons Why' more controversial than other depictions of suicide? (USA Today)