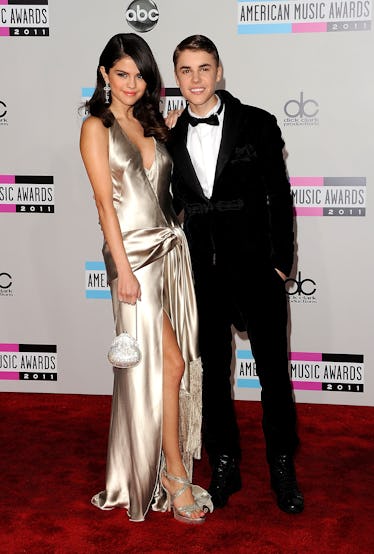 Selena & Justin Reportedly Won't Spend Christmas Together & The Reason Is Awkward
Jason Merritt/TERM/Getty Images Entertainment/Getty Images
It looks like there won't be a stocking hung over the fireplace for Justin Bieber at the Gomez household this Christmas. I know, bummer, right? Just when you find out the Jelena is back on again, and just in time for the holidays, you think that you'll be able to see social media posts of the two snuggling, making snow angels, and sipping hot chocolate. But now we're hearing reports that Selena Gomez and Justin Bieber won't be spending Christmas together, and I'm actually kind of sad about it.
It was hard enough when we found out that the couple didn't spend Thanksgiving together, either, because who didn't want to see Justin and Selena carving a turkey together like a bride and groom cutting their wedding cake? Sigh. According to E! News, a source told the outlet that the pair were each seeing their families, respectively:
They both spent Thanksgiving with their families. Justin went to Canada and Selena was in Texas. They are still doing really well together, but they agreed it was best for them to be with their families for the holiday.
Dagger to the heart, anyone?
The only solace is that Justin celebrates Canadian Thanksgiving, which happens in early October, so *technically* he was celebrating his holiday before the pair were seen back together. Still though, having Bieber at the Gomez household would have been nice, don't you think?
Well it doesn't matter what we think, because the opinions that matter most to Selena are those that come from her family, and apparently, they are most decidedly NOT here for it when it comes to having Justin come spend Christmas with them.
According to People, an inside source explains that Justin isn't invited to the Gomez holiday shindig, and that they're not thrilled with the pair getting back together:
Justin's family always loved Selena, but Selena's family is still not happy about her seeing Justin ... Selena doesn't bring Justin to any family events. Selena is spending Christmas with her family. As of now, Justin is not invited.
Ugh. Take down the mistletoe, I guess?
It's kind of sad to hear that Selena's family is reportedly not pleased with Justin — especially after hearing how Justin's mom, Pattie Mallette, gushed about Selena. According to People, she spoke highly about Justin and Selena's relationship at the Justice Speaks Holiday Luncheon benefit:
I don't know so much about their personal relationship because he doesn't share a whole lot, but I love her. I support anything [he does], if he loves her I love her, and I've met her and we have a special bond so I think she's precious. I can't really speak on their relationship, that's between them.
Can I just say that Justin Bieber's mom is the actual cutest, and I'm not crying, you're crying.
So now that we know how each family reportedly feels, that must have some sort of effect on the couple, right?
Maybe not. Selena has been pretty open about her romantic life, with Justin at the forefront, and it seems like as she's gotten older, she's getting even more confident with making her own choices, regardless of what others might think. In an interview with Billboard, she had this to say about dating Justin:
I mean I don't think anybody truly, actually cares ... I think for me what's been great is that I've been able to live the life that I've wanted for myself. And that doesn't always look the way people maybe think it should look, but it's not really my concern anymore.
So maybe Selena's family isn't all that happy about the pair rekindling their romance, but I don't think that's stopping much.
While there might not be any hope for a merry little Christmas for the couple, nobody has said anything about New Year's Eve plans. You know what that means?
That's right, you guys. Break out the champagne and party hats the day after Christmas, because there's still hope for a Jelena New Year's Eve countdown kiss.