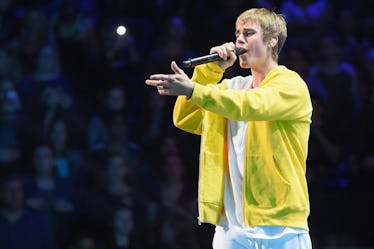 Justin Bieber's Quotes About Selena Gomez Prove He's So, So In Love With Her
Nicholas Hunt/Getty Images Entertainment/Getty Images
The end of 2017 has taken a turn, and by that I obviously mean Justin Bieber and Selena Gomez are suddenly and aggressively hanging out after breaking up almost four years ago. Their reconnection comes hot on the heels (slash practically at the same time) as Gomez' breakup with long-term boyfriend The Weeknd, and everyone has so many questions. Of course, looking back at some of Justin Bieber's quotes about Selena Gomez gives us a strong reason to believe he's always been and always will be in love with her. Perhaps now he's trying to seize this opportunity to win her back.
The two were first spotted hanging out in October 2017, weirdly getting breakfast by themselves and attending multiple church services together. Sources claim their reconnection has nothing to do with The Weeknd and Gomez splitting up, but it all feels so, so suspicious.
Friends of Bieber told Elle magazine that he wants to get back together with Gomez, but knows he has a lot of work to do. One source stated,
Justin is aware Selena's family is not thrilled they are hanging out. They think he caused Selena a lot of grief. Justin hopes he can prove to them that he has changed.
Hm... maybe.
Here's a look back at some of the Bieb's quotes about Selena that give us the warm and fuzzies.
On her best attributes:
"She has very kissable cheeks."
Justin threw out this adorable Selena-ism on The Ellen DeGeneres Show way back in the day when they first got together in 2011.
Later that year, he would go on to tweet, "Romance isn't dead. Treat your ladies right fellas."
On writing music about her:
In 2015, People reports he told Ryan Seacrest, "It was a long relationship that created heartbreak and created happiness, and a lot of different emotions that I wanted to write about."
He later admitted his songs "What Do You Mean," "Sorry," and "Mark My Words" were all about Gomez.
On always caring about her:
Bieber admitted to Billboard magazine that no matter the status of their relationship, he will always want the best for her. He said,
I'm proud of the woman she is today. ... When you love someone that much, even if something comes between you, it's a love that never really dies.
On missing her:
Bieber had a thing for posting photos of himself with Gomez, even after they split. Naturally, it caused an outrageous uproar from fans and the public alike.
One in particular came in 2016 with the caption "feels." Glamour reports that at the time it was the most liked photo on Instagram.
On defining himself by their relationship:
In 2015, Bieber described the intensity of his relationship with Gomez in an interview with Complex.
When looking back on their relationship, he said at the time,
We were so in love. Nothing else mattered. We were all about each other. But when it's like that and you get your value from that, people will always disappoint you. Your girl or your dude, they're always going to disappoint you. Your full identity can't be in that person. My identity was in her. Her identity was in me. When stuff would happen, I would lose my freakin' mind, and she would lose her mind, and we would fight so hard because we were so invested in each other. Love is a choice. Love is not a feeling. People have made it seem in movies that it's this fairy tale. That's not what love is. You're not gonna want to love your girl sometimes but you're gonna choose to love her.
On maybe getting back together one day:
Justin admitted to his main girl Ellen (again) a few years ago,
Maybe [we could get back together]. I mean, we have a lot of history together, so I'm sure it could possibly happen. But I think we're both just on our own journeys of just figuring ourselves out. And I think maybe once we figure ourselves out, we can come together and make an awesome duo.
IDK, IDK, IDK. Is that time now?
If Gomez wearing his jersey, inviting him over to her house, and going to church with him is any indication, we have a strong maybe.
For now, all we can do is watch and pray. (Get it? Like, church? Like their "thing"? OK. OK. OK. Goodbye.)
Check out the entire Gen Why series and other videos on Facebook and the Bustle app across Apple TV, Roku, and Amazon Fire TV.