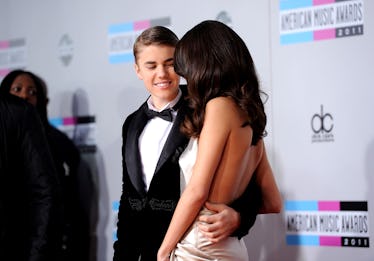 Selena Gomez's Family Is Reportedly "Not Thrilled" She's Hanging With Justin Bieber
Jason Merritt/TERM/Getty Images Entertainment/Getty Images
You guys, there is a lot going on with our main girl Selena Gomez. If you've been paying attention, you know that she secretly underwent kidney transplant surgery earlier this summer, she's released hit after freaking hit, and she recently broke up with her boyfriend, The Weeknd. If that wasn't enough, she's been low-key hanging out with her ex, The Biebs, and everyone's freaking out. Does Justin Bieber still love Selena Gomez? Probably. Do I condone them possibly getting back together? I don't know, man, like, what is life anyway?
On Monday, Oct. 30, People announced Gomez' split from The Weeknd and sent fans into a tailspin. According to one of the sources, their relationship had been shaky for some time. One insider put it,
She [Selena] and Abel have been going back and forth for a few months about their relationship. It's been hard with him being on tour and her shooting in New York. That wasn't easy on them.
Apparently, Gomez tried to make as many of The Weeknd's shows as she could, but with her own grueling schedule, there was only so much together-time they could squeeze in.
TMZ also released photos of Gomez hanging out with her famous ex, Bieber, at a cafe in Westlake Village.
In my mind I'm like, "What are you guys even talking about? The trials and tribulations of peaking at such a young age and the crushing societal pressures of maintaining your image while still trying to stay true to yourselves?"
That'd be my guess, but I wasn't a childhood star or anything.
Elle reports that a "pal" of Justin Bieber's says he knows he has a lot of making up to do to Selena and her tribe. The friend said,
Justin is aware Selena's family is not thrilled they are hanging out. They think he caused Selena a lot of grief. Justin hopes he can prove to them that he has changed.
According to those close to Bieber, he's been doing just that.
Since cancelling his Purpose tour to focus on his mental health and happiness, sources claim he is "doing much better." One insider told People magazine,
It has been a process, but he's doing so much better. You can talk to him and see that the old Justin is coming back. He seems happier, more energetic. It's encouraging. He's not completely there, but he's definitely on his way.
His friend also echoed this sentiment, saying,
He has changed a lot in the past few months. He is a very different person. They [Selena and Justin] have a lot to talk about and are having fun catching up.
Mm-hm... sure... WE'LL JUST SEE ABOUT THAT, "PAL."
Meanwhile, The Weeknd posted this moody-*ss photo on Instagram since news broke about the end of his relationship. From what I can tell, it has nothing to do with anything, and it's sole purpose is to show people how reflective his jacket stripes are.
(Insert shrugging emoji.)
Diehards also noticed that while he still follows Selena herself on Instagram, he did quietly unfollow a few people close to her. Her mom, her assistant Theresa Mingus, and best friend Francia Raise, who also happened to be her kidney transplant donor, all got the cut.
Since the breakup, Gomez shared a video while riding a bike with friends and singing her new hit, "Wolves." She seemed perfectly happy, normal, and un-phased by the certain frenzy surrounding the end of her relationship.
As far as Justin goes, all we can do now is watch and wait.
Check out the entire Gen Why series and other videos on Facebook and the Bustle app across Apple TV, Roku, and Amazon Fire TV.