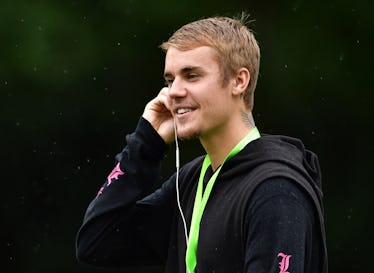 Justin Bieber Is Reportedly Doing "Much Better" Since Canceling 'Purpose' World Tour
Stuart Franklin/Getty Images Sport/Getty Images
It's been a long few months for The Biebs. After putting a sudden halt to his Purpose World Tour and notably getting involved with his church, Justin Bieber has clearly been working through something personal as we watch from afar. In the wake of his canceled concerts, fans have been left wondering is Justin Bieber still making music at all? And if so, will he return as the pop prince we know and love?
Bieber made the abrupt decision to cancel his tour in August to soul search and work on his mental health – two reasons that were revealed to the public in time. In a long public post on his personal Instagram account, Bieber sighted things like insecurities, fear, past relationships, and bitterness as reasons why he felt the need to step back and re-evaluate.
He wrote,
... I have let my insecurities get the best of me at times, I let my broken relationships dictate the way I acted toward people and the way I treated them! I let bitterness, jealousy and fear run my life.!!!! I am extremely blessed to have people in the past few years help me build my character back up reminding me of who I am and who I want to be!!!.
... I've learned the more you appreciate your calling the more you want to protect your calling. Me taking this time right now is me saying I want to be SUSTAINABLE.. I want my career to be sustainable, but I also want my mind heart and soul to be sustainable.
Now, a source close to Bieber tells People magazine that he is doing "much better." Justin was reportedly in a really dark, low place, and had to take some time to go inward and self reflect.
The source said,
It was a really bad scene. He was just not himself. He was profoundly unhappy. Exhausted, low energy. He was just miserable. He needed to step back, recalibrate, and then figure out his next move.
Honestly? Most of us can probably relate.
I've often made the joke to my friends that I'm "never mad at Justin Bieber," which I know is unpopular, but let's also be fair. The kid was so famous by the age of fourteen, he never had a chance to learn what normal social structures, behavior, and societal standards really are. When you are that famous that young (also looking at you, Kylie Jenner), it would make sense to not be quite in touch with reality.
OK. Rant over.
The source continued,
It has been a process, but he's doing so much better. You can talk to him and see that the old Justin is coming back. He seems happier, more energetic. It's encouraging. He's not completely there, but he's definitely on his way.
Scooter Braun, who manages Bieber and other mega-stars like Ariana Grande and Kanye West, confirms that Bieber was "worse than people realized." He told Wall Street Journal's Inaugural Style & Tech Issue, "I failed him day after day. We were living in hell because he was in such a dark place."
Still, Braun says he would never give up on Justin.
I made a promise to him when he was 13 that I would never give up on him. I plan on keeping that promise. He's family. I think the relationship is more like a big brother, especially because he's become a man. I think he's seen the worst of himself, and to watch him rise out of it was amazing.
So, when can we expect new tunes? It's still unclear, but for now, those close to Bieber are just happy to see he is doing better.
The insider concluded,
For a long time, it was just awful, but it's not anymore. Justin is seeing the beauty around him. He sees that his life is beautiful, that he's beautiful. He's young and rich, but that's not enough. He's now becoming emotionally and spiritually grounded, and the difference is written all over his face. It's beautiful to watch.
Like I said, I'm never mad at Justin Bieber.
Check out the entire Gen Why series and other videos on Facebook and the Bustle app across Apple TV, Roku, and Amazon Fire TV.