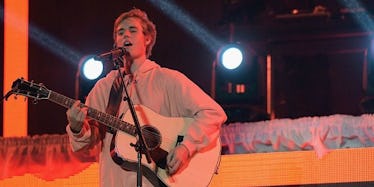 Justin Bieber Admits The Real Reason He Canceled 'Purpose' Tour & It Will Destroy You
Getty
Justin Bieber canceled the last leg of his Purpose Tour last month, his camp saying he needed some time off to work on his mental health and soul-search. Aside from the statements his team released and a short message he sent to his fans, we haven't heard much from Bieber himself about why he ended the tour early. But now, an Instagram post has revealed the reason why Justin Bieber canceled his Purpose Tour.
Bieber himself posted a long statement on Instagram late last night, and it's really emotional and honest. He basically says he's been letting his past dictate his actions in the present, and that he doesn't want to do that anymore. Bieber felt he needed to cancel the rest of the Purpose Tour in order to work on all of that. He wrote,
I'm so grateful for this journey with all of you.. I'm grateful for the tours but most of all I am grateful I get to go through this life WITH YOU.! Learning and growing hasn't always been easy but knowing I'm not alone has kept me going. I have let my insecurities get the best of me at times, I let my broken relationships dictate the way I acted toward people and the way I treated them! I let bitterness, jealousy and fear run my life.!!!! I am extremely blessed to have people in the past few years help me build my character back up reminding me of who I am and who I want to be!!!.
He posted the entire message on Instagram. Further down in the post, he reveals that canceling his tour is not a sign that he wants to quit music like some people feared. It's actually the opposite. Bieber's hoping canceling the rest of the Purpose Tour to work on himself is the best way to keep his "mind, heart, and soul" prepared for the years to come in his music career. He said,
I've learned the more you appreciate your calling the more you want to protect your calling. Me taking this time right now is me saying I want to be SUSTAINABLE.. I want my career to be sustainable, but I also want my mind heart and soul to be sustainable.
For the most part, fans in the comment section are being really supportive. He continued,
This message is just an opportunity for you to know my heart, I'm not expecting anyone to understand, but I do want people to have an opportunity to know where I am coming from!
When the news of the tour cancelation first came out, Scooter Braun, Bieber's manager, said in a statement that Bieber "will be back." And now we have confirmation from The Biebs himself.
Hopefully this time off will give him the tools he needs to keep on making music for years to come. Get better, Biebs!