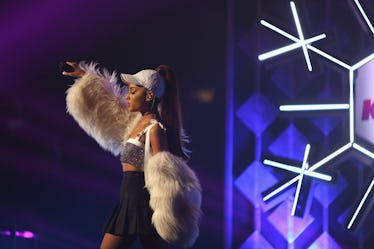 Ariana Grande's Manager Responds To Vegas Shooting: "We'll Keep Singing Our Songs"
Tasos Katopodis/Getty Images Entertainment/Getty Images
The United States woke up to heavy news on Monday morning about the mass shooting last night in Las Vegas. On Sunday, Oct. 1, a single shooter opened fire from a hotel room in The Mandalay Bay Resort and Casino down on concertgoers attending the Route 91 Harvest Festival. As of 12:57 p.m. ET, Las Vegas police have confirmed that 58 people lost their lives, and over 515 were injured. It is the latest violence to hit a music concert following the Manchester attack at an Ariana Grande concert in May of 2017. Now, Ariana Grande's manager, Scooter Braun, is reacting to the shooting on Twitter.
As it stands, Mandalay Bay is the largest mass shooting in history, eclipsing the horrific Orlando shooting that took 49 lives in the Pulse Nightclub in June 2016. It is also reminiscent of the Manchester attack, when a single uni-bomber released explosives at Grande's concert, killing 22 people.
Scooter Braun has recently shared the following message in a lengthy tweet, opening with how these horrific acts touch our families and children.
I don't really have words this morning. I am deeply saddened. And as horrifying as it is to say I can't tell you I'm surprised. Our greatest challenges are ahead of us. What took place in Las Vegas last night should never happen. What took place in Manchester should never happen. What took place in Charlottesville should never happen. But they are all happening. And ALL of them are terrorist attacks. They strike fear in our ability to live our lives. They all make us question taking our children, our friends, our loved ones... to public events that are supposed to bring us joy... in fear of devastation. They are all attacks on our way of life and our way of love.
He continued, adding that his heart breaks for those affected and that he is "so sorry."
So first let me say my heart breaks for all those affected in Las Vegas. Nothing we do can bring back your loved ones and I am so sorry. For those in the hospital recovering we are with you. Keep fighting. And for all of us... who are we? What will we choose to do in response? Will we just instagram and move on? Will we think this is about a hashtag with the word #vegas in it? Or will we wait until the next one affects us? THIS ONE affects us. #LasVegas is ALL of us. This is an attack on your friends, your family, your kids, your way of life.
He concluded, reflecting back on Manchester and the One Love Manchester Benefit concert.
So as we think about those lost and those hurting this morning... what do you and I owe them? We owe them our courage. We owe them our faith. We owe them our strength and our spirit to rise up and come together and demand not only better now but better Tomorrow. When I was in Manchester I witnessed something defiant. At the end of the One Love Manchester show... only 2 weeks after the attack and less than 24 hours since the london attack...when the cameras were off... the crowd of 55,000 brave souls started to sing. [They] echoed the words 'Manchester we're strong, we're strong, we're strong. We'll keep singing our songs, our songs, our songs!' This repeated for 15 minutes as they exited. Defiance in the face of fear. Las Vegas we're strong. We're strong. We're strong. We'll keep singing our songs...Together. RIP to those lost.
Our thoughts go out to all those touched by this tragedy. If you would like to help the victims of the Vegas shooting, click here for more information.