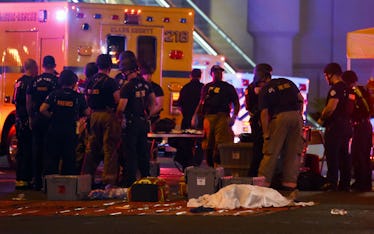 Here's How You Can Help The Las Vegas Shooting Victims ASAP
Ethan Miller/Getty Images News/Getty Images
On Sunday, Oct. 1, a gunman opened fire from a room at the Mandalay Resort and Casino in Las Vegas, Nevada, killing more than 50 people and injuring over 400. Police say this shooting on Sunday night is the deadliest in modern United States history, according to NBC news. The shooting took place just after 10 p.m. PT during the three-day Route 91 Harvest festival, while singer Jason Aldean was performing. While good thoughts and prayers are appreciated and welcomed, here's what you can do to help the Las Vegas shooting victims.
UPDATE: Las Vegas Police Department Sheriff Joe Lombardo has confirmed that at least 58 people were killed and over 515 were injured in the shooting. The shooter has also been confirmed dead and is not believed to have a connection to any terrorist group.
EARLIER: Right now, blood donations are at the top of the list. According to Sheriff Joseph Lombardo, the exact number of injuries and victims have not been determined yet. "Obviously this is a tragic incident and one that we have never experienced in this valley," he said.
As the number of victims climb, the need for blood donations does as well. There are six blood donation centers in the Nevada area located in Carson City, Henderson, Craig Street in Las Vegas, Charleston Boulevard in Las Vegas, Reno, and Sparks. Each location is already working hard to supply hospitals with the blood they need. If you're unable to donate in these areas, share or retweet this information on your social media platforms and help spread the word.
There are countless ways to donate to the victims and volunteers in Las Vegas, even if you are not in the immediate area. One way to help is by donating to aiding organizations in Las Vegas, such as the St. Rose Dominican Health Foundation. This organization's mission is to "to improve community health and wellness through fundraising and relationship building for Dignity Health - St. Rose Dominican." An organization like this will undoubtedly help those in need and will greatly appreciate your support.
Additionally, donations to the Red Cross are always encouraged, as it has been on the ground helping and working with victims since the shooting happened. It is worth checking out crowdfunding sites like GoFundMe to find ways to support the communities and families affected by the tragedy. Nevada's Clark County Commission Chair, Steve Sisolak, has actually created an official Las Vegas Victims Fund on GoFundMe that you can donate to. This type of crowdsourcing brings together people from around the world and has the potential to reach millions.
The best thing those outside the Las Vegas area can do is donate and spread information as quickly as possible. However, when it comes to sharing information and retweets on Facebook, Twitter, or Instagram, it's important you are checking the source and credibility of your information. Spreading false or inaccurate information in difficult times like this can be dangerous. Hoaxes about what happened in Las Vegas are already spreading across the internet, and it's vital to be wary of false information.  Always be sure to check your source and that you are only putting correct and sound information out on your social media pages.
As stated, this shooting has been deemed the "deadliest mass shooting in modern United States History" by many outlets. Another way to help is to write to your congressmen and congresswomen and speak your mind about gun control reform. You can also email your concerns to your congressperson through a congressional website. While this will not help victims immediately, it's become increasingly important for United States citizens to speak their minds when it comes to common sense gun laws. Just this year, there have been over 273 mass shootings in the United States in 2017, according to Gun Violence Archive.
Reports from the horrific night are heartbreaking; one emotional witness told ABC,
One young man passed away as we were carrying him out … We had him in the ambulance, we were loading him in the ambulance and the guy said 'let's set him down here,' So, I set him down with myself and the young man passed away … It's been a tough night … So many people died and are wounded. It's very sad … I'm glad some people are safe and it's a terrible tragedy. I don't know what other words you could use for it.
If you have any videos or photos concerning the shooting, the Las Vegas Metropolitan Police Department is asking you to call 1-800-CALLFBI or (800) 225-5324.
If you'd like to donate blood in the Las Vegas area, the United Blood Services will start taking donations at 7 a.m. on Oct. 2 at two locations: 6930 W. Charleston in Las Vegas or 601 Whitney Ranch Drive in Henderson.
Editor's Note: This article has been updated to include organizations working with Las Vegas relief efforts directly.