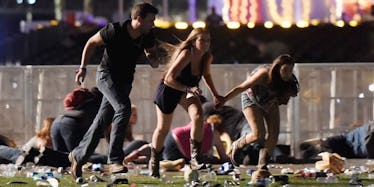 Here's Where People In Las Vegas Can Go To Donate Blood To Shooting Victims
David Becker/Getty Images
After a mass shooting in Las Vegas that killed at least 50 and injured at least another 200, people in the Vegas area are being urged to help in any way they can. As part of this, authorities have given information to locals on where to donate blood to Las Vegas shooting victims. Here are some places you can go in the Las Vegas area to donate blood and if you're not local, there are some other ways you can help.
UPDATE: Las Vegas Police Department Sheriff Joe Lombardo has confirmed that at least 58 people were killed and over 515 were injured in the shooting. The shooter has also been confirmed dead and is not believed to have a connection to any terrorist group.
EARLIER: The shooting took place at the Route 91 Harvest Festival in Las Vegas, just a short distance away from the Mandalay Bay Resort and Casino. According to the Associated Press, country music star Jason Aldean was performing when shots rang out. The gunman reportedly fired at concertgoers from a room inside the Mandalay Bay and died at the scene.
According to the Las Vegas Metropolitan Police Department, an off-duty police officer was among those killed at the concert. It has also been confirmed that law enforcement responding to the scene were among those injured. According to the LVMPD, two on-duty officers were injured. One had surgery and is in stable condition and the other had minor injuries.
According to the LVMPD, people in the Las Vegas, Nevada area are being asked to visit the Labor Health & Welfare Clinic. The clinic is located at 7135 West Sahara Avenue in Las Vegas, Nevada. For those who are not in the Vegas area, unfortunately blood does not have a long enough shelf life to transport across the country. However, donating in your local area can still help regardless.
Here are some other areas that locals can donate blood in this time of need. There are many other cities in the area that Nevada residents can visit, including Henderson, Reno, Sparks, Las Vegas and Carson City.
If donating blood isn't possible for you due to your location, there are many other ways to help. Donations to the Red Cross can be super helpful in this time of need, as officials are already on the ground in Vegas helping victims. There are also GoFundMe pages being set up for donations to victims in the terrible tragedy.
The Las Vegas Metropolitan Police Department has set up a hotline for family members and friends of possible victims to call and report missing people. You can help share this information on social media, but be careful about the sources you choose to share from. According to Buzzfeed, there is already misinformation being spread on the internet. Check your sources and share the credible ones!
Jason Aldean is among those praying for the victims and families affected in the shooting. He posted a photo on Instagram with the caption reading,
Tonight has been beyond horrific. I still dont know what to say but wanted to let everyone know that Me and my Crew are safe. My Thoughts and prayers go out to everyone involved tonight. It hurts my heart that this would happen to anyone who was just coming out to enjoy what should have been a fun night. #heartbroken #stopthehate
Witnesses at the scene have been recounting their experiences during the shooting, and they are so, so tragic. One emotional witness told ABC,
One young man passed away as we were carrying him out … We had him in the ambulance, we were loading him in the ambulance and the guy said 'let's set him down here,' So, I set him down with myself and the young man passed away … It's been a tough night … So many people died and are wounded. It's very sad … I'm glad some people are safe and it's a terrible tragedy. I don't know what other words you could use for it.
Our thoughts and prayers go out to those affected by this horrific loss.