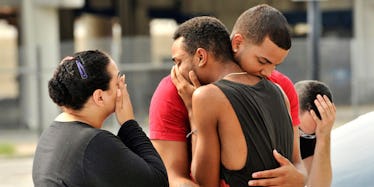 The Orlando Pulse Nightclub Mass Shooting Is The Deadliest In US History
REUTERS
In the early hours of Sunday morning, inside Orlando's premier gay nightclub, Pulse, 29-year-old Omar Mateen walked in and opened fire, killing 49 people and leaving more than 50 injured.
Almost immediately, the more than 300 people in the club started dropping to the floor to crawl and hide while others fled. According to witnesses, the shooting lasted an entire song.
The nightclub said in a Facebook post,
Everyone get out of Pulse and keep running.
According to The Los Angeles Times, around 5 am, a SWAT team entered the nightclub, drawing some fire from Mateen before killing him.
The Los Angeles Times additionally reported, prior to entering the club and committing this heinous crime, Mateen called 911 and pledged his allegiance to the Islamic State.
Club-goer Christopher Hansen told NBC,
It was tragic. I wasn't sure if it was the music, because... it went with the beat almost until you heard just too many shots. It was just like -- bang, bang, bang, bang, bang, bang -- and that's when you just know chaos is just, it was in turmoil.
As police gained control of the situation, one thing became readily apparent: This was the deadliest mass shooting in US history.
The incident is reportedly being investigated as an act of terrorism, according to NBC News. However, the shooter's father told NBC it wasn't about religion, instead, it was about his son's own apparent homophobia.
His father additionally told LA Times,
We were in downtown Miami, Bayside, people were playing music. And he saw two men kissing each other in front of his wife and kid and he got very angry. They were kissing each other and touching each other and he said, 'Look at that. In front of my son they are doing that.' And then we were in the men's bathroom and men were kissing each other.
If you are looking to help the Orlando blood bank desperately needs blood donors.
A release from OneBlood said,
There is an urgent need for O Negative, O Positive and AB Plasma blood donors following a mass shooting in Orlando, Florida. Dozens of people have been injured and taken to area hospitals. The need for blood continues.
To find a donation center near you, visit www.oneblood.org or call 1.888.9Donate. As of publication, the site is down, likely due to overwhelming traffic, so consider calling if you or someone you know would like to donate blood.
Our thoughts are with all victims and their families on this tragic day.
Editor's note: An earlier version of this story reported that the shooter killed 50 people; new reports say the shooter killed 49.
Citations: Florida Nightclub Massacre Is Deadliest Mass Shooting in U.S. History (NBC News), Orlando Nightclub Shooting: Mass Casualties After Gunman Opens Fire in Gay Club (NBC News), Orlando nightclub shooting: 50 killed, 53 injured; gunman identified as Omar Mateen (Los Angeles Times), Blood donors needed after mass shooting in Orlando (The Orlando Sentinel), Orlando Police Detail Battle to End Massacre at Gay Nightclub (The New York Times)