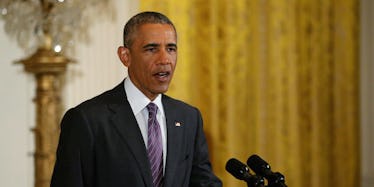 Obama And Presidential Candidates React To Orlando Nightclub Mass Shooting
REUTERS
President Obama has learned about the deadliest mass shooting in US history that occurred at the Pulse nightclub early Sunday morning in Orlando, Florida, and he was completely broken down by it.
He was reportedly briefed by Lisa Monaco, the assistant to the president for homeland security and counterterrorism, on the shooting, which resulted in at least 50 deaths and more than 50 injured.
According to the statement, Obama's asked for regular updates as federal and local officials gather more information.
In the time since the shooting ended, the gunman was killed and identified, and Orlando Mayor Buddy Dyer declared a state of emergency.
Obama started speaking about the shooting at around 2:00 pm Sunday, and his weakened resolve about gun vilence was palpable.
Though Obama's made gun control important to his administration, he's never been able to get common sense gun regulations passed. Gun control was the cornerstone of a speech where Obama became emotional over the Sandy Hook Elementary School shooting, and it running in the undercurrent of his speech today.
According to a statement in the press conference, this would be the 15th time Obama spoke about a mass shooting.
In his remarks, Obama said,
Today as Americans, we grieve the brutal murder... of dozens of innocent people. We pray for their families who are grasping for answers with broken hearts... Although it's still early... we know... this was an act of terror and an act of hate... I've directed that the full resources of the federal government be made available for this investigation... We will go wherever the facts lead us... This could've been any one of our communities... As a country, we will be there for the people of Orlando, today, tomorrow and all the days to come. We also express our profound gratitude to police and first responders who rushed into harm's way.
The president added,
This massacre is an especially heartbreaking day for our friends and fellow Americans who are lesbian, gay, bisexual and transgender. The shooter targeted a nightclub where people came together to be with friends... So, this is a sobering reminder that attacks to any American, regardless of race, ethnicity, religion or sexual orientation is an attack on all of us... No act of hate or terror will change who we are... This is a further reminder of how easy it is for someone to get their hands on a weapon... We have to decide if that's the kind of country we want to be and to actively do nothing is a decision as well. In the coming hours and days, we'll learn about the victims of this tragedy. We will draw inspiration from selfless and heroic acts. In the face of hate and violence, we will love one another. We will not give into fear... We will stand united as Americans to protect our people and defend our nation... May God continue to watch over this country that we love.
The president also ordered all US government flags to be flown at half-staff in honor of the victims.
The vice president was also briefed on the situation and offered his prayers and condolences.
Presidential candidates and politicians also weighed in on the tragedy.
In a statement, Senator Chris Murphy of Connecticut, where the Sandy Hook shooting occurred, called the Orlando shooting part of an "epidemic" that "will continue without end if Congress continues to sit on its hands and do nothing, again."
Murphy added,
I know the pain and sadness that has brought too many communities — Newtown, Oregon, Aurora, San Bernardino, and now Orlando — to their knees, and I can only hope that America's leaders will do something to prevent another community from being added to the list. This phenomenon of near constant mass shootings happens only in America — nowhere else. Congress has become complicit in these murders by its total, unconscionable deafening silence.
Vermont Senator Bernie Sanders said on NBC's "Meet the Press,"
Oh, it's horrific, it's unthinkable. And just hopes go out to all those who were shot that they can recover. And I've got to tell you, 25 years ago, I believe that in this country, we should not be selling automatic weapons which are designed to kill people. Sanders. We have got to do everything that we can on top of that to make sure that guns do not fall into the hands of people who should not have them, criminals, people who are mentally ill. So that struggles continues.
Hillary Clinton, the presumptive Democratic presidential nominee, tweeted a statement about the shooting.
Donald Trump, the presumptive Republican presidential nominee, also tweeted about the shooting.
As many have noted here and on social media, the shooting's timing is ironic given that Obama just declared June to be lesbian, gay, bisexual and transgender pride month. Surely the irony wasn't lost on Obama who only just spoke about gay pride and LGBT equality and activism on Saturday.
As The White House said, "When all Americans are treated equal, we are all more free." Now, if only we could listen to Obama on common sense gun control, then maybe we wouldn't have to deal with a new mass shooting every day. Who knows when the next deadliest shooting in US history will occur if we all don't do something about it.
Watch Obama's entire statement on the Orlando nightclub shooting here.
Citations: Blog: Mass shooting at Orlando gay nightclub is worst in history (CNN), President Obama on the Tragic Shooting in Orlando (The White House), Presidential Proclamation -- LGBT Pride Month, 2016 (The White House), President Obama briefed on mass shooting in Orlando nightclub; politicians react to news (PIX11), Obama, others decry Orlando nightclub shooting as it reignites political debate (The Washington Post)