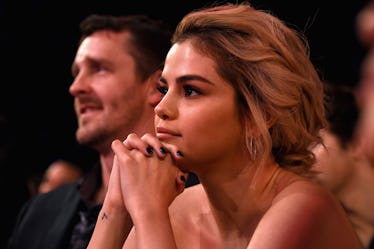 Selena Gomez's Mom Was Rushed To The Hospital, According To Reports
Michael Kovac/Getty Images Entertainment/Getty Images
Reports broke on Tuesday, Dec. 19, that Selena Gomez's mom was rushed to the hospital, according to TMZ. The site claims law enforcement stopped by Mandy Teefey's home last week for a "welfare check," as requested by one of her family members. She then was voluntarily transported to a nearby hospital in L.A. for treatment, according to the source, though reports say she is not under a 5150 hold (an involuntary psychiatric hold). Elite Daily reached out to Selena Gomez's team for comment, but did not hear back by time of publication.
According to TMZ, Teefey was hospitalized following a "heated" conversation with her daughter about dating Justin Bieber. However, these details have not been confirmed and were only reported by one source.
Teefey took to Instagram on Monday, Dec. 18, to write a message to followers about the baby she miscarriaged in 2011.
She said,
Thank you to all the fans who honored our Scarlett yesterday. Dec 17th will never be the same, but we decide to celebrate her by writing her letters on red balloons and releasing them. Now the 17th is intertwined with the wrap of S2. So, she was there in spirit as always. A moms love for their children is pretty fierce. In order of my girls, Selena, Scarlett and Gracie. Family is what matters, blood or not, #family13 made me smile and feel loved when so needed and they didn't know. Then, I came home to Brian and Gracie to send our love to Scarlett. Fans, I want you to know you are family because I have a huge family and you are the only ones who remember! XO forever.
We also know that when it comes to Bieber and Gomez getting back together, the family has allegedly had their concerns. A friend of Bieber's explained to Elle magazine,
Justin is aware Selena's family is not thrilled they are hanging out. They think he caused Selena a lot of grief. Justin hopes he can prove to them that he has changed.
On Gomez's part, she has been a loud and strong advocate for mental health, having taken time off in the past from her own busy career to work on herself. She's also had an intense year, secretly working on a new album, releasing amazing hits like "Bad Liar," "Fetish," and "Wolves," and also undergoing an intense, life-saving kidney transplant.
In her Woman Of The Year Billboard magazine interview, Gomez said,
I'm really proud of where I am right now. I handle things in a healthy way. I can enjoy where I'm at. I love being able to say "no." I like being a part of the world. People are so terrified of other people. I see it in my generation a lot. There's so much anxiety and angst, and the pressure just keeps getting worse. [But] I'm proudest of not becoming jaded. I have every reason to be like, "F*ck all of you." And I don't. I'm going to have the bad days where I don't want to leave my bedroom — but I'm ready for them.
Additionally, in a 2012 interview with Glamour magazine, Gomez expressed gratitude for her mom and her upbringing. She said,
It's because of [my mom] that I can do things on my own. I like being professional. I like showing up on time. I like being good to people, and I know that I'm reflecting her at the end of the day.
It's unclear what led to Teefey's reported hospitalization, but our thoughts are with her, her family, and Selena Gomez during this time.
Check out the entire Gen Why series and other videos on Facebook and the Bustle app across Apple TV, Roku, and Amazon Fire TV.