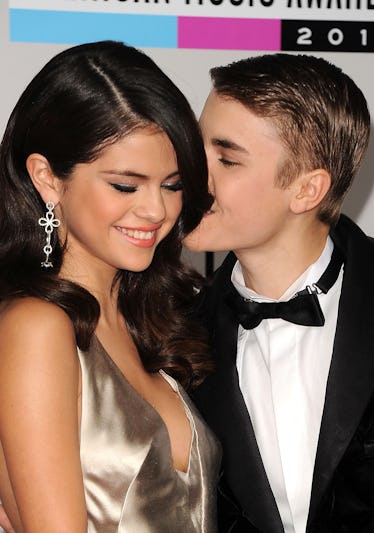 Selena Gomez Posted Her First Instagram About Justin Bieber Since Dating Again & OMG
Jason Merritt/Getty Images Entertainment/Getty Images
Selena Gomez and Justin Bieber have been kissing and hugging and holding hands and doing other gross couple stuff since the "Wolves" singer broke up with her ex The Weeknd. They've rekindled their middle school romance and '90s babies everywhere are either like "HELL YES!" or "I hate everything." I, for one, am very excited to know Gomez and Bieber are back together. But in case you've had your doubts, the lovebirds decided to confirm the dating rumors swirling around by low-key making their relationship Instagram official. Yup, Selena Gomez's Instagram about Justin Bieber's birthday pretty much confirms they're an item. Sorry, haters. Y'ALL BETTAH BACK UP.
The 25-year-old singer took to Instagram to wish her boyfriend a "happy birthday," since the Biebs turned 24 on March 1, 2018. She shared a photo of her with a polaroid photo on her head (which, according to fans, looks like a picture of Bieber) and captioned the image, "March 1, 1994 someone I know that happens to be super cool was born. Boom."
BOOM IS RIGHT, GIRLFRIEND. I just googled "celebrities with a March 1 birthday" and literally the only people who came up are Justin Bieber, Lupita Nyong'o, and Kesha. I love Black Panther and "Praying" as much as the next person, but I'ma have to take a wild guess and say this birthday shout out is about her boo.
Also, literally every fan is tagging "@justinbieber" in the comments section, so I think we all know who Gomez is referring to. NO OFFENSE, KESHA!
Since Selena Gomez and The Weeknd's breakup, Gomez has been spotted multiple times swapping spit with her on-again, off-again lover, Biebs. They've also been traveling A LOT, and recently flew to Jamaica together for Bieber's dad's wedding on Monday, Feb. 19. A source told People the two even "celebrated a romantic Valentine's Day" together, so you know things are serious. "They had been apart for a couple of days and seemed happy to be reunited," the source continued.
Gomez and Bieber have clearly been through a lot together, so it's pretty sweet to see them rekindling. If you'd like to go down memory lane (I'm always down for a #TBT!), then check out these romantic quotes from Bieber about his girl.
In 2015, Bieber reportedly admitted his songs "What Do You Mean, "Sorry," and "Mark My Words" are all about Gomez. He told Ryan Seacrest, "It was a long relationship that created heartbreak and created happiness, and a lot of different emotions that I wanted to write about." SO MANY FEELS, MAN. SO MANY FEELS!
That same year, The Purpose singer told Billboard, "I'm proud of the woman she is today ... When you love someone that much, even if something comes between you, it's a love that never really dies." I'm not crying, you're crying!
But Bieber has always, always talked about the possibility of getting back together with Gomez. When asked about his former relationship with the singer, Bieber told Ellen DeGeneres in 2015, "Maybe [we could get back together]. I mean, we have a lot of history together, so I'm sure it could possibly happen. But I think we're both just on our own journeys of just figuring ourselves out. And I think maybe once we figure ourselves out, we can come together and make an awesome duo." UHHH, I GUESS YOU GUYS FIGURED YOURSELVES OUT THEN, HUH?
The last quote I'll give you — before we all fall apart from shedding too many tears — is what Justin Bieber told Complex for his cover story. He opened up about his past with Gomez and it. Will. Wreck. You:
We were so in love. Nothing else mattered. We were all about each other. But when it's like that and you get your value from that, people will always disappoint you. Your girl or your dude, they're always going to disappoint you. Your full identity can't be in that person. My identity was in her. Her identity was in me. When stuff would happen, I would lose my freakin' mind, and she would lose her mind, and we would fight so hard because we were so invested in each other. Love is a choice. Love is not a feeling. People have made it seem in movies that it's this fairy tale. That's not what love is. You're not gonna want to love your girl sometimes but you're gonna choose to love her.
BRB, SOBBING.