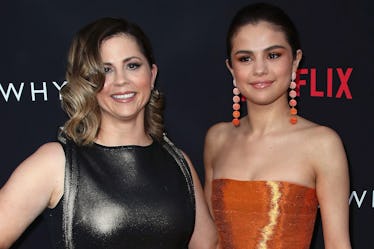 Selena Gomez's Mom Calls Out Her Daughter For Working With Woody Allen
Things seem to be getting tense between Selena Gomez and her mother, Mandy Teefey. On Monday, Jan. 15, Teefey reportedly called out Selena Gomez for working with Woody Allen on the film A Rainy Day In New York. Elite Daily reached out to Teefey's, Gomez's, and Allen's teams for comment, but did not hear back by the time of publication. Fans have recently been asking Gomez to comment on her continued involvement in Allen's film despite the past sexual assault allegations made against him by his stepdaughter, Dylan Farrow.
Farrow has been accusing Allen of sexual assault for years, claiming he assaulted her in an attic when she was just 7 years old. Farrow recently wrote an op-ed asking why the #MeToo movement seems to have skipped over Allen. Allen denied the sexual assault allegations and in a letter published in The New York Times in 2014 wrote,
I naïvely thought the accusation would be dismissed out of hand because of course, I hadn't molested Dylan and any rational person would see the ploy for what it was. Common sense would prevail. After all, I was a 56-year-old man who had never before (or after) been accused of child molestation... ...Not that I doubt Dylan hasn't come to believe she's been molested, but if from the age of 7 a vulnerable child is taught by a strong mother to hate her father because he is a monster who abused her, is it so inconceivable that after many years of this indoctrination the image of me Mia wanted to establish had taken root?.... ...Of course, I did not molest Dylan. I loved her and hope one day she will grasp how she has been cheated out of having a loving father and exploited by a mother more interested in her own festering anger than her daughter's well-being.
Now, fans are imploring Gomez to speak out against Allen. She has not commented on the requests from fans.
On Monday, Jan. 15, fans reportedly started commenting on one of Teefey's Instagram photos asking Teefey to tell her daughter to comment on the allegations against Allen.
Teefey reportedly claimed in a reply to a fan that she tried to speak with Gomez about her decision to work with the filmmaker, but it fell "on deaf ears."
The reported comment read,
Sorry, No one can make Selena do anything she doesn't want to. I had a long talk with her about not working with him and it didn't click. Her team are amazing people. There is no fall person here. No one controls her. She makes all her own decisions. No matter how hard you try to advise. It falls on deaf ears.
Fans are surprised Teefey would call out her own daughter so publicly, but they're more surprised by what Teefey said about Gomez in her reported comment.
Considering the fact that Gomez is the executive producer of 13 Reasons Why — a show that was unapologetic in its stance about the reality of sexual assault and how rape culture is a huge issue in our society — it is jarring for fans to see that she would work with a man who has been accused of sexual assault.
This screenshot of a comment Mandy Teefey reportedly left on Facebook has been circulating on Twitter, though the comment cannot be verified on Kicked To The Curb Productions' Facebook page.
Amid these claims and the outcry from fans for Hollywood to stop allowing Allen to continue working, Gomez's Rainy Day co-star Timothée Chalamet announced on Jan. 16 he will be donating his salary from the film to "TIME'S UP, the LGBT Center in New York, and RAINN."
Timothée Chalamet shared the following statement on his Instagram on Jan. 15:
This year has changed the way I see and feel about so many things; it has been a thrilling and, at times, enlightening education. I have, to this point, chosen projects from the perspective of a young actor trying to walk in the footsteps of more seasoned actors I admire. But I am learning that a good role isn't the only criteria for accepting a job — that has become much clearer to me in the past few months, having witnessed the birth of this powerful movement intent on ending injustice, inequality and above all, silence. I have been asked in a few recent interviews about my decision to work on a film with Woody Allen last summer. I'm not able to answer the question directly because of contractual obligations. But what I can say is this: I don't want to profit from my work on the film, and to that end, I am going to donate my entire salary to three charities TIME'S UP, The LGBT Center In New York, and RAINN. I want to be worthy of standing shoulder to shoulder with the brave artists who are fighting for all people to be treated with the respect and dignity they deserve.
Chalamet and Gomez co-star in star-studded cast for A Rainy Day In New York. Some of their co-stars include Jude Law, Elle Fanning, Liev Schreiber, Diego Luna, Rebecca Hall, and Suki Waterhouse.
On Jan. 13, Rebecca Hall also announced on Instagram that she would be donating her Rainy Day salary.
In part of her caption, Hall said she is "profoundly sorry" for signing on to the film. She said, "I regret this decision and wouldn't make the same one today. It's a small gesture and not one intended as close to compensation but I've donated my wage to @timesup. I've also signed up, will continue to donate, and look forward to working with and being part of this positive movement towards change not just in Hollywood but hopefully everywhere. #timesup."
Given the actions of her co-stars, fans are hoping Gomez will follow suit by either donating her salary or at the very least commenting about her decision to be involved with the film. But to be quite honest, Teefey's reported comments aren't exactly inspiring...