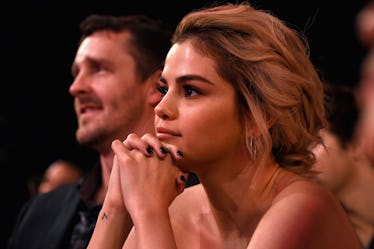 Selena Gomez Shared A Video Message About Body Positivity & It's So Powerful
Michael Kovac/Getty Images Entertainment/Getty Images
Selena Gomez is continuing her journey to self-acceptance and a life of authenticity. After a truly wild past year or two, Gomez announced she is taking a break from the limelight to nurture herself and her personal life. Part of that journey included a special trip to Australia where she and some close friends enjoyed a sun-filled vacation. Recently, she shared a touching Instagram post about their trip with a very important message. Selena Gomez's Instagram video about body positivity is clearly what we all need right now, and I'm always grateful for her words of encouragement.
As you guys might recall, Gomez has had a lot going on. In the past year, she broke up with her long-term boyfriend The Weeknd, underwent a kidney transplant surgery, released incredible new singles, and rekindled her romance with Justin Bieber. As of now, Gomez and the Biebs are taking a "break," but she is also taking a break from fame, too.
In mid-March, Gomez took a group of folks on a trip to Sydney, Australia, where the paparazzi photographed her and her group palling around on a yacht and sunbathing in bikinis. Bieber was noticeably absent from the trip, but Gomez seemed to be smooth-sailing without him. On Tuesday, March 20, she posted a video on Instagram filtered to look like an old-fashioned home video. The footage includes images of her and her friends laughing in the sun and beautiful shots of the Sydney waterfront. However, it's Gomez's caption that has caught fans' attention.
Always an advocate for self-love, Gomez wrote a thoughtful and heartfelt message to go along with the sweet video. She said,
The beauty myth- an obsession with physical perfection that traps modern women in an endless cycle of hopelessness, self consciousness, and self-hatred as she tries to fulfill society's impossible definition of flawless beauty. I chose to take care of myself because I want to, not to prove anything to anyone. Wind in her sails.
She finished off her message with a rainbow and purple heart emoji.
A source close to Gomez told Entertainment Tonight she really is taking this time for herself. The insider said,
Selena is very delicate; her 'comeback' to the spotlight has been tough — especially with the interest in her personal life with Justin and her mother. She is taking time to herself. This is not the first time she has done this.
The insider added, "She needs to figure out how to live the life she wants in the spotlight — if that's even possible."
Honestly? Fair enough. The public has been all over this woman, partly because she is an incredible role model, and partly because drama does seem to follow her around. As of now, reports are circulating saying Gomez's mom, Mandy Teefey, isn't pleased about her daughter getting back together with Justin Bieber.
Teefey told Gossip Cop she is "not happy" that Gomez is hanging out with the "I'm The One" singer, but added, "Selena is an adult and can make her own choices." She also said, "Selena can live her life however she wants as long as she is happy, safe, and healthy."
Agreed, Mom. Based on Gomez's Australia video, it looks like she is doing just that.
Fans are keeping their eyes open for any other posts regarding Gomez's current personal life, but we just might have to wait while she does her own thing.
Deep breaths, everyone. Take this time to go live your lives, too.
Check out the entire Gen Why series and other videos on Facebook and the Bustle app across Apple TV, Roku, and Amazon Fire TV.