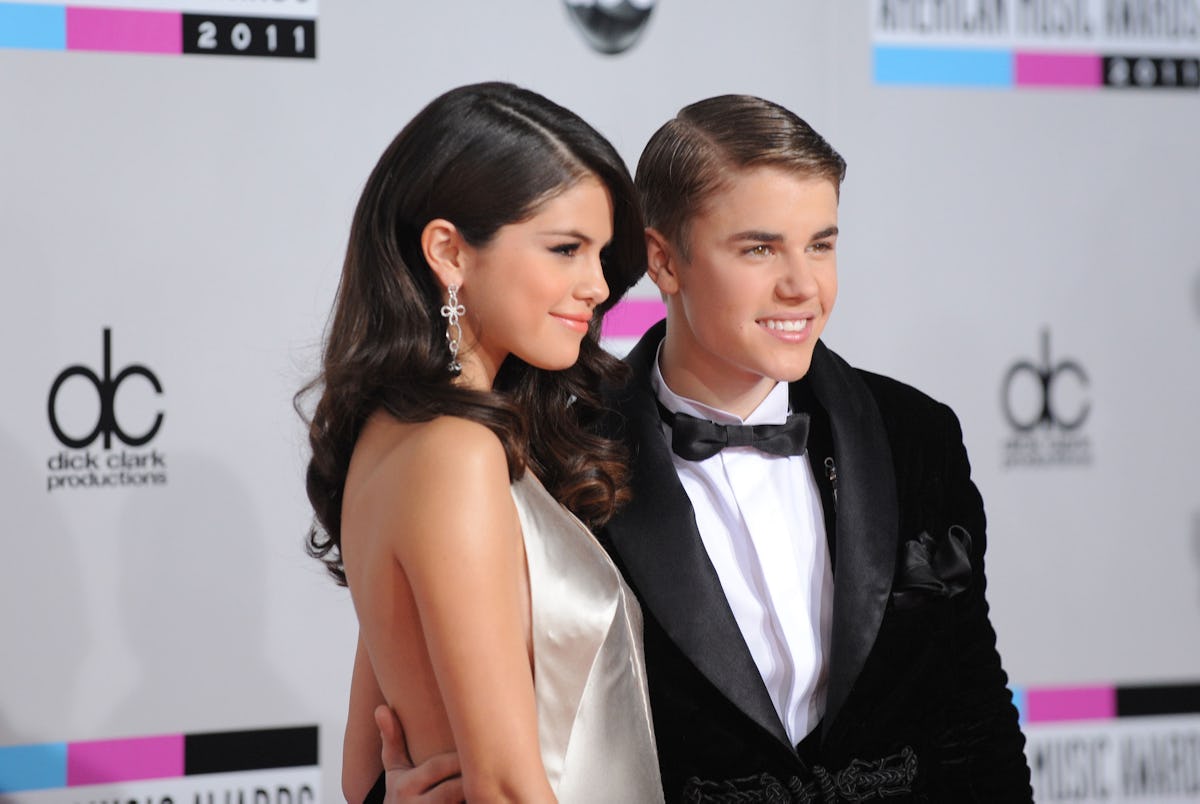 8 Details About Selena Gomez & Justin Bieber's Relationship You Probably Never Knew
Jason Merritt/Getty Images Entertainment/Getty Images
Sometimes when it's late at night and I can't fall asleep, I wonder what Selena Gomez and Justin Bieber are up to. They are, hands down, the Ross and Rachel of our generation. The on-again, off-again couple has captured the public's attention and hearts for nearly a decade, and the twists and turns of their romantic story have been some of the most extreme in Hollywood. As of February 2018, the couple is officially back on again, leaving me to reflect on what got us here. If you've been wondering, here are a few things you've probably forgotten about Selena Gomez and Justin Bieber's relationship.
First things first, it started a long-ass time ago. We'll get to the specifics, but it's safe to say it all began at the very end of 2009. At the time, Bieber was only 15 years old and rocking some serious shaggy bangs, and Gomez was 17 years old (also rocking a great head of hair). Today, they're walking around as two, fully formed adults, putting the pieces of a tumultuous relationship back together. But, you better believe a lot happened between now and then.
Let's take a nostalgic look back at some of the details, shall we?
1. Justin's first move was serenading Gomez on New Year's Eve in 2009.
Ok, maybe you don't call this a "move," but it's definitely something. Beiber and Gomez performed as two hot-to-trot tweens at the 2009 Dick Clark's New Year's Rockin' Eve, just at the turn of the decade. Just watch this and tell me there isn't something already going on here.
2. Their first date was at an IHOP.
Or at least the first date we knew about. Photos surfaced of the two getting all cute and cozy at the restaurant chain, but Gomez told US Weekly, "It was just pancakes!"
3. Gomez once called Bieber her "little brother."
Leave it to Ellen DeGeneres to suck the truth out of people. During a former interview on DeGeneres' show ELLEN, Gomez denied dating Bieber saying, "He's little! He's like my little brother!" Of course, DeGeneres called her out on that little white lie a year later. Take a look.
4. One time, Bieber rented out the entire L.A. Staples Center for a private screening of "Titanic" as a date night.
In 2011, People reported that after attending their friend Demi Lovato's concert, Bieber took Gomez to the Staples Center for a private viewing of the famous romantic movie. NOT A BIG DEAL. She'll only sometimes let go, Justin.
5. Their first breakup was 6 years ago.
In 2012, Jelena attributed their first breakup to "crazy schedules." The world was obviously devastated, but little did we know what was still in store.
6. Gomez once started an all-out Instagram war with Bieber over his new girlfriend.
It was the Instagram comment seen around the world. At the time, Bieber was dating Sofia Richie and lashed out at fans for trolling their relationship. Bieber captioned a photo of him and Richie,
I'm gonna make my Instagram private if you guys don't stop the hate this is getting out of hand. If you guys are really fans you wouldn't be so mean to people that I like.
If you can't handle the hate then stop posting pictures of your girlfriend lol - it should be special between you two only. Don't be mad at your fans. They love you.
7. Gomez's bestie Taylor Swift wasn't always a fan.
I mean, can we please discuss this video of T-Swift sticking her tongue out as Gomez and Bieber say hello at the 2013 Billboard Music Awards? Of course, this was after their first breakup, but before the years of drama still ahead.
8. They once did this choreographed dance video, and I just think you should know about it.
I think this one speaks for itself.
It's been a wild ride, Jelena, and we can tell it's hardly over. For now, the two are enjoying their time together after years of personal and individual growth, and we just hope the peace train keeps going!
Check out the entire Gen Why series and other videos on Facebook and the Bustle app across Apple TV, Roku, and Amazon Fire TV.