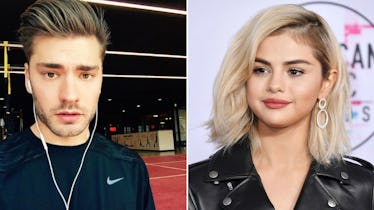 Selena Gomez Was Spotted On A Boat In Australia With This Guy Who Isn't Justin Bieber
Instagram/johnnyrays & Neilson Barnard/Getty Images Entertainment/Getty Images
I know everyone is a little out of sorts considering we have NO IDEA WHAT IS GOING ON WITH JUSTIN BIEBER AND SELENA GOMEZ. It's ok. Don't panic. Try to refrain from writing in all caps. Gomez recently took herself and some friends on vacation to Sydney, Australia, and it looks like one handsome gentleman has caught fans' eyes. People are wondering: Who is Johnny Rays? The answer is: One of Gomez's church friends.
In early March, an insider told E! News that Gomez and Bieber are taking a little break. Elite Daily reached out to Gomez and Bieber's teams regarding the potential breakup but did not hear back by the time of publication. The news came as a little bit of shock considering how quickly and aggressively these two seemed to patch things up after Gomez ended her 10-month relationship with The Weeknd. The source told E!,
They were having a lot of little disagreements recently and one fight in particular blew up and caused them to decide to 'break up,' however, they've been in contact the entire time and their feelings for each other have not changed.
The insider added, "They will absolutely get back together and they are not over, but they both need some time away from each other."
...K.
For now, it looks like Gomez is thoroughly enjoying her break as paparazzi caught her hanging out on a yacht with friends down under. Included in Gomez's group is said handsome gentleman Johnny Rays. Photographers snapped pictures of Rays palling around with Gomez on the boat, and another entourage member named Anna Ballins shared a video of him popping out of a porthole.
Even though Rays has an impressive 34,000 followers, he's not yet verified on Instagram.
He's also, like, a total fox.
According to Elle magazine, Bieber shouldn't have too much to worry about. Rays reportedly works for Gomez and Bieber's church, Hillsong, as a brand manager for one of the church's bands called Young & Free. If you visit Hillsong's website, you can learn a little bit more about Rays and his background. The website explains,
Based in Sydney, Australia, Johnny Rays works with Youth Pastors Peter & Laura Toggs as the Brand Manager for Hillsong Young & Free. Having grown up as part of the Sydney City Campus of Hillsong Church, Johnny has always been passionate about the church pushing creative boundaries and considers it a huge privilege to play a small part in inspiring a generation to worship.
Oh yeah, he's also based in Sydney where Gomez happens to be vacationing.
Breath easy, Biebs.
A different source told E! News the pressure of having a public relationship might be partially to blame for Gomez and Bieber's time off. The insider said,
They both have expressed that they have been feeling overwhelmed with a lot of pressure that has come with their public relationship, and haven't been seeing eye to eye on things.
As of now, Gomez is not only stepping away from her relationship but also living in the limelight. In fact, she is reportedly taking a break from fame entirely. An insider explained to Entertainment Tonight,
Selena is very delicate; her 'comeback' to the spotlight has been tough — especially with the interest in her personal life with Justin and her mother. She is taking time to herself. This is not the first time she has done this.
They added, "She needs to figure out how to live the life she wants in the spotlight — if that's even possible."
Hey, I get it.
I mean, I don't "get it," because I'm not a major celebrity at the young age of 25 living in a media-obsessed society, but I can imagine it must be hard.
You do you, Selena, and bring Johnny. He is so pretty.
Check out the entire Gen Why series and other videos on Facebook and the Bustle app across Apple TV, Roku, and Amazon Fire TV.