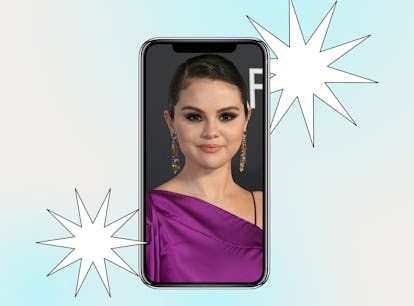 Selena Is Taking A Break From Social Media After A Wild Week On IG
She became the most-followed woman on IG, then ghosted.
Michael Kovac/Getty Images Entertainment/Getty Images
At the same time that Selena Gomez became the most-followed woman on Instagram, she announced a hiatus from the app. That timing might seem a bit bizarre, but looking back at the week leading up to the decision, it makes sense why Gomez may want to take a step away from social media. Here's the full play-by-play explaining why Selena Gomez took a break from Instagram.
On Friday, Feb. 24, Gomez became the most-followed woman on Instagram once again, surpassing Kylie Jenner in followers. As of Saturday, Feb. 25, Gomez has 384 million followers on the social media platform, compared to Jenner's 380 million. That number made Gomez the third most-followed celebrity on Instagram overall, only trailing behind soccer stars Cristano Ronaldo and Lionel Messi. However, just as Gomez achieved that title, she announced a break from social media, so her millions of followers won't be seeing much on her grid or stories for a while.
"I'm going to be taking a second from social media, because this is a little silly," Gomez said on a TikTok live on Feb. 23. "I'm 30, I'm too old for this. But I love you guys so much and I will see you guys sooner than later."
She also updated her most recent Instagram post, adding "(taking a break from social)" to the caption.
The drama that Gomez was seemingly referring to in her TikTok live involved Jenner, as well as Hailey Bieber. In the days leading up to Gomez overtaking Jenner in followers, a theory went viral that Jenner and Bieber were making fun of Gomez by posting close-ups of their eyebrows shortly after Gomez said she'd messed up her brows in a TikTok.
Jenner and Gomez were quick to shut down the controversy in the comments section. "This is reaching," Jenner wrote. "No shade towards selena ever and i didn't see her eyebrow posts! u guys are making something out of nothing. this is silly." Gomez echoed Jenner's sentiment in her reply: "Agreed @kyliejenner. It's all unnecessary. I'm a fan of Kylie!"
But the drama didn't end there. On Feb. 23, Gomez commented on a TikTok of Hailey Bieber. In the clip from Bieber's 2017 show Drop the Mic, she appears to make a gagging expression when Taylor Swift is mentioned. "So sorry, My best friend is and continues to be one of the best in the game," Gomez wrote, referencing her famous friendship with Swift.
For years, there have been rumors about a possible feud between Gomez and Bieber, stemming from Bieber's marriage to Gomez's ex-boyfriend Justin Bieber, but the two have fought against that narrative several times. On Oct. 16, 2022, Gomez and Bieber posed for photos together, and Gomez also seemed to stick up for Bieber shortly afterward.
Though Gomez didn't specifically mention this drama in her social media hiatus announcement, it seemed to be what she was referring to when she said, "I'm too old for this." So don't expect any new IG pics or TikTok challenges anytime soon.