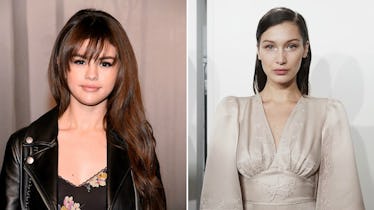 This Detail On Instagram Reveals A Lot About Where Bella Hadid & Selena Gomez Stand
Jamie McCarthy/Vittorio Zunino Celotto/Getty Images Entertainment/Getty Images
Love triangles have a way of creating some serious drama. In case you forgot, Bella Hadid, Selena Gomez, and The Weeknd were seemingly involved in one not too long ago (2017 was a dark, dark time), but it looks like everyone's moved on from it. Well, maybe not everyone, but certainly the ladies involved, because Bella Hadid like Selena Gomez's Instagram, and honestly that's as good as evidence in my book.
Let's recap: Bella Hadid dated The Weeknd. Then, The Weeknd dated Selena Gomez. Back in January of 2017, Hadid unfollowed Gomez on social media after some ~scandalous~ photos of Gomez and The Weeknd surfaced (kissing behind a dumpster, I might add), to which The Weeknd then unfollowed Hadid, because why not add more to this already confusing story?
Out of sight (on Instagram), out of mind, I guess.
Hadid was clearly hurt over her breakup with The Weeknd, so it's understandable as to why she unfollowed her ex-boyfriend. We've all been there. In an interview with Teen Vogue, Hadid was very candid about her breakup, explaining that it's difficult to go through something that personal so publicly. She said:
It was my first breakup ... and so public. As an outsider, you might think I handled it so well, but it's always in your heart, and you always feel it very heavily ... But I'll always respect him, and I'll always love him. Sometimes you want to be sad about it or handle it differently, but at the end of the day, you never want to burn a bridge that you've fought so hard to build.
If hearing that doesn't give you flashbacks to your first breakup, you're absolutely lying.
Sorry, had to take a quick cry break.
OK, back.
So let's flash forward now, to a time where Selena has gotten way over The Weeknd and has recently been dating Justin Bieber — except now they might not be, and really, what kind of cruel world are we living in?
But as we all know, breakups can only make people stronger, and Selena's most recent Instagram totally proves that to be true. The video she posted looks old-timey but super cool, showing off some pretty stellar views on a yacht with friends. Her caption talks about the "beauty myth" (quoting Naomi Wolf'sThe Beauty Myth) and how she cares less about how others see her and more about how she sees herself. (Tell 'em, girl.) She wrote,
The beauty myth- an obsession with physical perfection that traps modern woman in an endless cycle of hopelessness, self consciousness, and self-hatred as she tries to fulfill society's impossible definition of flawless beauty. I chose to take care of myself because I want to, not to prove anything to anyone. Wind in her sails.
YAS, QUEEN!
And, in the ultimate display of Girl Power, Bella Hadid went ahead and liked Selena's post because LET'S SUPPORT ALL OF OUR BEAUTIFUL LADIES:
Loving this, TBH.
Plus, this isn't the first time that Bella has shown Selena some love on Instagram.
Back in November of 2017, a photo uploaded to IMGmodels account showed Selena Gomez looking like a damn dream at the American Music Awards. She looks amazing, and clearly, Bella agreed, because she liked the photo.
Maybe it was her way of waving the white flag, or maybe it was simply showing that there really wasn't any bad blood between them at all, because no man should ever come between two smart, gorgeous, and talented AF ladies.
So the next time you start thinking that there's some ~drama~ between Bella and Selena, let's think again. I bet these two are hanging out right now, drinking wine and laughing at the men they've dated. Aka just being two regular women.
You go, girls.